Stephenson, Scalise in runoff for district court seat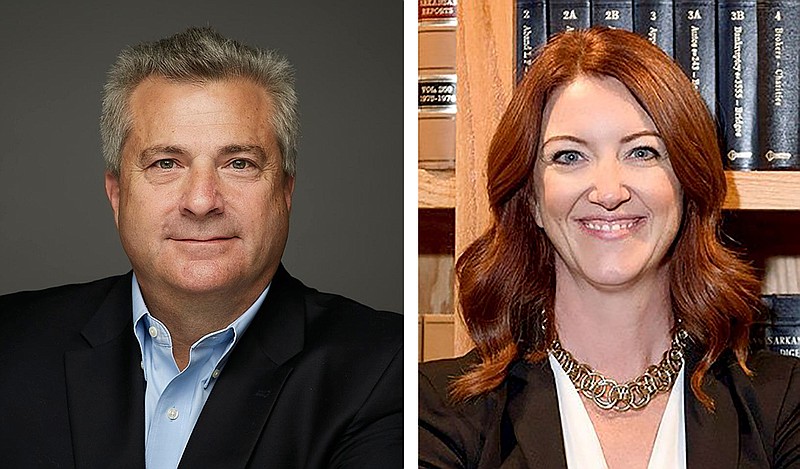 FAYETTEVILLE, Ark. — Both candidates in the runoff for a district court seat in Washington County said they would bring the most experience to bench.
Terra Stephenson and Mark Scalise face off for the District 2, Division 4, seat being vacated by William Storey, who is retiring at the end of the year. The court is in Fayetteville, but the position is voted on countywide. Elections in Arkansas for judges are nonpartisan.
Scalise, 60, is a lawyer in private practice, a businessman and a former deputy prosecutor.
Stephenson, 45, is senior deputy prosecutor handling felony criminal cases in the 4th Judicial District. She assists supervising a staff of almost 40.
District courts have jurisdiction over traffic violations, misdemeanor offenses, misdemeanor violations of state law and local ordinances, preliminary felony matters and civil matters involving contracts, damage to personal property and recovery of personal property where the amount in dispute is less than $25,000.
Stephenson said working in a courtroom almost daily as a prosecutor and trying cases before juries has taught her the nuances of the law and the rules of the courtroom required for the job.
"I have spent my entire career prosecuting violent crime in my own community," Stephenson said. "I have thousands of hours in the courtroom, handling everything from homicide to sexual assault and child sexual and physical abuse. I am the only candidate who has appeared regularly in district courts in this county."
Stephenson said there are no juries in district court so the judge determines the facts in each case.
"As the judge, I would be the person the lawyers had to convince, and my background building successful cases for trial uniquely qualifies me to determine if a case has been proven sufficiently," she said.
Scalise said he has had more varied experiences after starting out as a was he a deputy prosecutor in Washington County, trying cases and handling hearings and pleas in circuit and juvenile courts. Scalise said he then moved to Philadelphia for a trial practice focused on products liability, workers compensation and insurance defense and, later, corporate contracts, licensing and mergers and acquisitions. He's also a licensed patent and trademark lawyer and has represented clients in Fayetteville District Court.
"With 29 years of practice in a wide variety of legal disciplines, I have the most diverse and well-rounded legal experience in this race," Scalise said. "My skill set also includes extensive business and management experience with several Fortune 500 companies including General Electric, Norton, Ingersoll Rand and J.B. Hunt. I have managed teams of more than 50 direct reports and budgets in excess of $160 million. I have also owned and operated my own small business."
The race is a runoff from May when Stephenson got the most votes, but did not receive the required 50% plus one vote needed to win outright. In May, Stephenson received 17,566 votes (49%) to 13,692 (39%) for Scalise. David Phillips, a deputy city attorney in Springdale, pulled 4,026 votes (11%) in May.
Both Stephenson and Scalise said they see the job as a way to serve and give back their community.
"Simply stated, I am passionate about serving my community and leaving the world a better place," Scalise said. "I am running because I see Fayetteville District Court as an opportunity to make a real and positive difference in the safety and well-being of Washington County."
Stephenson said her entire career has been devoted to public service.
"I see this job as a continuation of a decision I made early on to work at serving this community where I was born and raised," she said. "What matters most to me about being a prosecutor is feeling like I'm able to make a real difference in people's lives and contribute positively to my community, and that won't change if I'm elected judge."
Scalise and Stephenson both said they would use alternative or diversion programs when they could produce a better outcome in a case while still keeping offenders accountable for their actions.
"As circumstances warrant, these could include mandated restitution, payment of fines, community service, probation, victim impact panels, evaluation and assessment, substance abuse treatment and therapy," Scalise said. "It is to our advantage to identify 'high risk' persons and try to intervene early with diversion programs and counseling services before they go too far in the wrong direction."
Scalise said he'd also look at implementing DWI Court and enhanced probation programs to break the cycle of repeat offenders and better monitor and supervise those offenders.
Stephenson said she's worked with Washington County Drug Court and Veterans Court as a deputy prosecutor and has seen their effectiveness first hand.
"I would like to see more drug and alcohol treatment available to those caught up in the criminal justice system. I would also like to see more access to mental health care," Stephenson said. "This is not only helpful to the individual's outcome, but it should also help reduce recidivism, which ultimately would save money for the system."
Both candidates said they had to overcome adversity as children and have had to balance careers with raising families as adults.
"I grew up, for at least some of my childhood, with a single mom. She worked hard at more than one job, went to nursing school and took care of me with no real family support," Stephenson said. "I will never regret growing up with her as my earliest example of what hard work and determination look like. I think I have always had a strong work ethic and sense of responsibility because of that."
Scalise said he had to start working early in life.
"My mother died when I was eight years old, and I grew up in a single parent household with an older brother and two older sisters," he said. "I started in the labor force at age 10 delivering papers, mowing lawns and shoveling snow. I worked myself through school with factory and farm jobs and earned an undergraduate degree in engineering."
Washington County is state District 2 and has four district judges who hold court in different parts of the county.
Three incumbent district judges faced no opponents this election cycle. They are Jeff Harper, Division 1, who holds court in Springdale, Johnson and Elm Springs; Graham Nations, Division 2, who holds court in Prairie Grove, Johnson, Farmington, Lincoln, Springdale and at the Washington County Detention Center; and Clinton "Casey" Jones, Division 3, who holds court in Greenland, West Fork, Elkins, Fayetteville and at the detention center.
District judges are paid $147,000 a year. Terms are four years.
The election is Nov. 3. Early voting starts Oct. 19. A voter may request an absentee ballot application by contacting the county clerk in the county where he's registered to vote, according to the Arkansas Secretary of State website. Voters may download the application from the county websites.