Smart chooses path paved by Musselman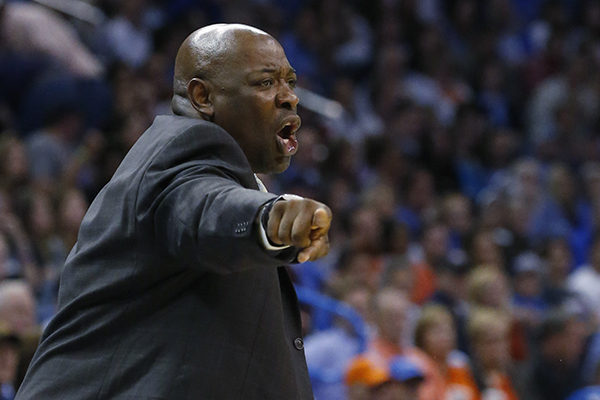 FAYETTEVILLE, Ark. — After 22 seasons as a professional basketball coach — including three NBA head coaching jobs — Keith Smart is going back to college.
Smart, who starred at Indiana and hit the game-winning shot his junior season when the Hoosiers beat Syracuse 74-73 in the 1987 NCAA Tournament championship game, has his first college job as a University of Arkansas assistant.
The way Smart figures it, he couldn't be at a better place to learn about making the transition from pro to college coach because he'll be working with Razorbacks Coach Eric Musselman.
"I'm actually going to be working with the blueprint to all that," Smart said Friday. "Eric Musselman has gone through the entire process, from coaching in the NBA and then going and being an assistant coach [in college] and eventually getting his head coaching opportunity, and now being here at Arkansas.
"I can't tell you how important it was to fall into a place that I can see someone who has already gone that route and someone that I know personally."
Smart, 56, has known Musselman for more than 30 years, since playing for him in the CBA with the Rapid City (S.D.) Thrillers during the 1989-90 season. Smart also played for Musselman with the CBA's Florida Beachdogs and was an an assistant coach for him with the NBA's Golden State Warriors.
Musselman had 19 seasons of experience as a pro coach — including 10 in the NBA, and head coaching stints with Golden State and the Sacramento Kings — when he got his first college job as an Arizona State assistant for Herb Sendek during the 2012-13 season.
"My whole background had been at the pro level or minor-league level or coaching overseas," Musselman said last season during the Razorbacks' run to the NCAA Tournament Elite Eight. "I wanted to get involved with the college game.
"Coach Sendek took a flier on me with no recruiting experience. I didn't know what a buy game was for nonconference scheduling. I was clueless. But I wanted to try and I wanted to learn."
Musselman was an Arizona State assistant for two years and then went to LSU as an assistant coach for Johnny Jones.
"I thought that was a great opportunity as well," Musselman said. "So three years as an assistant prepared me for Nevada."
Musselman led Nevada to a 110-34 record in four seasons — including NCAA Tournament appearances from 2017-19 highlighted by a Sweet 16 run in 2018 — and landed the Arkansas job.
"Without the two years at Arizona State, I wouldn't be a head coach of a college program anywhere," Musselman said. "So I look back at the time at ASU as kind of a turning point in my career."
Smart, head coach of Golden State and Sacramento as well as the Cleveland Cavaliers, was fired as a New York Knicks' assistant during the 2018-19 season along with Knicks Coach David Fizdale — another former Musselman assistant with the Warriors.
After sitting out the last two seasons, Smart interviewed for Indiana's head coaching job that went to Mike Woodson, another former Hoosier and NBA head coach who was a Knicks assistant.
Smart said he had a chance to get back into coaching last season, but it didn't happen amid the coronavirus pandemic.
Taking a break from coaching also allowed Smart to more closely follow the college football career of his son, Jared, a wide receiver at Hawaii.
"Along the way of that process, I said, 'Let me take a look at the colleges and see if that's something I might want to do,' " Smart said. "And I got involved with Indiana University. They called and I went through the process with them, and that kind of got my juices flowing a little bit about potentially going into college coaching.
"During that time frame I started watching a lot of college basketball, because I wasn't involved with the NBA. So I just looked at college coaches and what they were doing and how they were playing.
"Of course, I was following Eric and other coaching friends that I have, and that started to get me moving in that direction."
While Smart didn't get the Indiana job, he said going through the interview process with Athletic Director Scott Dolson was valuable.
"That was an excellent experience," Smart said. "I think that really opened my eyes. Talking with the AD and being able to share my thoughts and ideas about coaching, and then him sharing what he thought would be necessary as well.
"I knew I needed to know more about the process, what else you need to go into. Coach Musselman and I talked about this. He shared with me he thought that the fact he did become an assistant coach first in college really helped him in his next stops as head coaches."
Smart and Musselman are among three former NBA coaches on the staffs at Arkansas universities.
"Naming all three of us?" Darrell Walker said with a laugh. "I think it's a hell of a trivia question."
Walker, coach at the University of Arkansas at Little Rock, is the third former NBA head coach now working as a college coach in the state. He was head coach of the Toronto Raptors and Washington Wizards.
"When I heard Keith Smart was going to Arkansas, I said, 'That's a great hire,' " Walker said. "His resume is long and deep, and he's worked with Muss before, so they have a real good relationship.
"Keith will be just fine. He's going to adjust to college coaching really well, and he's probably going to love it."
Smart said he talked to Musselman during the NCAA Tournament about college coaching.
"I had some questions for him, and he would answer those questions I had," Smart said. "But never a point where he was saying, 'Hey come on over here,' because there was no availability with this staff.
"Then obviously when there was some availability, he reached out to me. He said, 'Hey, what do you think about this?' I didn't hesitate when he asked that question. I said, 'If I'm going to look at college, what better place and better person to be around to grow into it?' "