Santa's Students: U of A Greeks Give Back to Northwest Arkansas for Holidays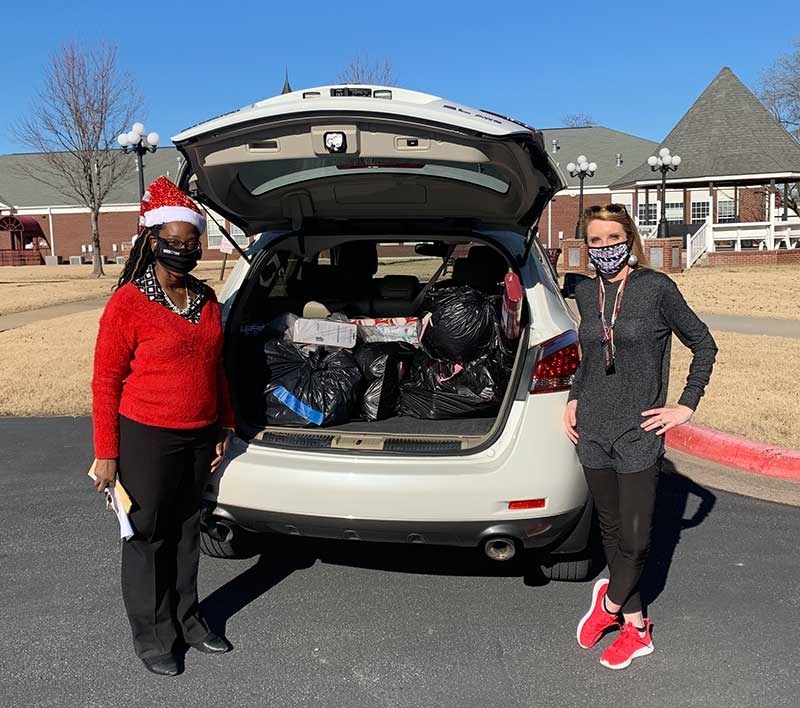 FAYETTEVILLE, Ark. – Every holiday season should be special; however, considering the many challenges 2020 has brought, communities across America feel this year requires a bit more holiday magic. Making that happen in Northwest Arkansas includes an impactful combination: U of A Greek Life and a timeless tradition.
Every December, Greek Life students partner with local churches, various public school districts, and community leaders to connect with families in need. Students often shop with families, helping them purchase gifts, winter garments, and food. It's a personal and valuable tradition for U of A Greek Life, whose organizations emphasize community service.
"We take pride in assisting families in need with things they need to live more comfortably, as well as have the best holiday season," Director of Greek Life Parice Bowser explained.
The event has become a popular and successful one for the Northwest Arkansas community. Last year, more than 50 Greeks from all four councils participated, absorbing the cost of nearly $7,000 worth of diapers, toys, winter clothes, electronics and food.
"As Greeks, we have a responsibility to maintain and enrich our community. When fellow Arkansans are in need, we step up. We have a huge community, enough to make a big change in others' lives. The holiday season is a great time to do that," Bowser stated.
This year, the Greeks' holiday project was perhaps more urgent than ever before. Considering the pandemic, Greeks were tasked with finding safe, socially distanced ways to make big impacts in families' lives.
"The pandemic has brought many families financial burdens, job loss, and food insecurity," explained Amanda McQuitty, president of Panhellenic Council. "And the holidays may be more stressful than ever for them. We wanted to find ways to alleviate that."
U of A Greek Life worked with school counselors to connect with families in the community. As students began planning their gifts and collecting donations, they started noticing a common thread: many emphasized the need for food. To deliver on this need, Greeks worked with Harp's and Cracker Barrel to coordinate gift cards and holiday dinners to feed families throughout the holiday season.
"We didn't stop at that," Bowser noted, "we collected an incredible amount of donations for toys for 25 children to ensure each family's children could have something to bring a smile to their face!" With the help of council and chapter executive boards, as well as loading & transportation efforts by the brothers of Sigma Alpha Epsilon and Lambda Chi Alpha, Greeks delivered multiple cars full of items to families last week.
The total number of dollars given this year by chapters to make this holiday tradition special is priceless.
"Seeing the school counselors and families light up with excitement as we delivered food and gifts just proves this tradition is so meaningful. Times are really hard right now, so we love getting to make a positive difference and help people have a holiday season full of comfort and joy," Bowser said with a proud smile.
Michelle Cook, president of the Springdale Public School Board, said, "I am extremely thankful for how the University of Arkansas Greek Life helps the NWA community!  Especially how they help Springdale Schools' families not only at Christmas, but throughout the year. This year we had some pretty big needs, but as always, these students came through in a BIG way. A huge thank you to Parice S. Bowser and the entire Greek Life community! We appreciate you!"