On-Campus Vaccine Appointments Available; PWHC Resumes Offering Single-Dose COVID-19 Vaccine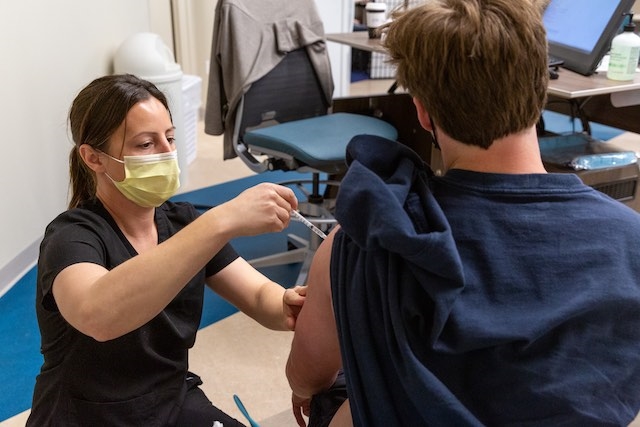 FAYETTEVILLE, Ark. – Pat Walker Health Center has resumed offering the Johnson & Johnson (Janssen) COVID-19 vaccine for on campus vaccination appointments. The decision follows the recommendation by federal health agencies that use of the single-dose vaccine continue.
After a two-week pause to review all available data, the CDC and FDA determined that — although use of J&J/Janssen vaccine suggest an increased risk of a very rare adverse event called thrombosis with thrombocytopenia syndrome — the vaccine's known and potential benefits outweigh its known and potential risks for those who receive it.
In addition to offering the J&J vaccine, the health center will continue to offer the Pfizer two-dose vaccine series for patients that prefer this vaccine.
SCHEDULE YOUR COVID-19 VACCINE APPOINTMENT
University employees, students, and spouses can schedule their vaccine appointment by calling 479-575-4451, option 1. Appointments are still required, and second-dose appointments (if applicable) will also be scheduled for convenience.
APPOINTMENT DETAILS
COVID-19 vaccines are being administered at Pat Walker Health Center main facility by appointment only — 525 N. Garland Avenue.
The COVID-19 vaccine will be provided to you with no out-of-pocket cost. However, PWHC will charge an administration fee to your insurance provider to cover vaccine-related expenses. Uninsured patients will have fees covered by the Health Resource and Services Administration's Provider Relief Fund.
Only a limited number of appointment slots are available each day. If no appointments are available, view available off-campus vaccination opportunities.
Although not required, the university strongly recommends getting vaccinated against COVID-19. The vaccine will not only help protect you against COVID-19 but also help prevent serious illness if you do contract the virus that causes COVID-19.