Nursing Student, Doula Researching How Ethics Education May Help Mitigate Racial Disparities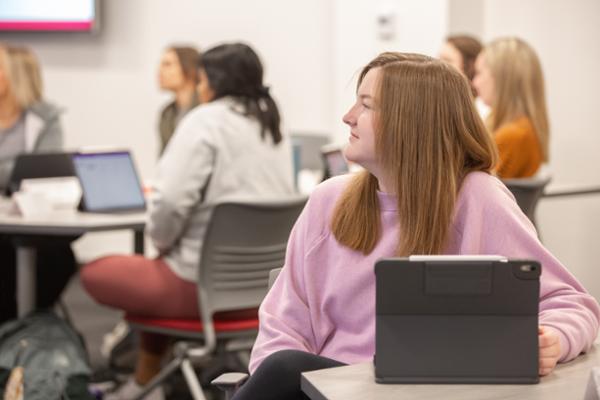 FAYETTEVILLE, Ark. – While Erica Tempesta was earning a master's degree in English from Johns Hopkins University, she became fascinated by why and how women make certain decisions during pregnancy and labor.
She started researching the topic and, as her body of work grew, the desire for a new career unfolded.
"I loved teaching and I loved working on my research, but there was so much about it that wasn't right for me," she said. "I was researching issues of racism and class inequality, but I almost never directly addressed those issues while doing my job."
Tempesta transitioned to work as a doula, someone who provides guidance and support to a woman during pregnancy, labor, and the post-partum period.
"I was on the ground with people who were experiencing racial and economic inequality at a very important moment of their lives, and I felt much more useful and effective in that setting," she said.
When she and her partner moved to Fayetteville, Tempesta expanded her own doula practice, Rooted Growth, to provide physical, emotional and informational support to pregnant people and their families from the prenatal to the postpartum period, as well as through loss or termination.
The work was rewarding, but she kept thinking about nursing. She had trained with nurses to become a doula. She had also seen the positive impact they had not only on people's lives but also on the healthcare system itself.
Tempesta was accepted into the U of A's Eleanor Mann School of Nursing in the spring of 2019. A few months later, she was selected for the Arkansas Center for Nursing's "BSN Young Leaders" program. She was also awarded a grant from the U of A Humanities Center to investigate how ethics education among nursing students — as taught at the U of A and in schools around the United States — can be used to fight racial disparities when providing health care.
Tempesta hopes her project will help pinpoint why racial disparities continue to happen in healthcare settings. "We have known for some time that these disparities exist, and I think most health care providers would say they want them to go away. So why hasn't that happened?" she asked.
Tempesta lived in Baltimore, Maryland — where the majority of the population is Black — while earning her master's degree. She observed that even though the city has one of the most prestigious teaching hospitals in the world, improved health outcomes are not noticeably better for the Black population of the city.
"I wanted to research this topic to learn how to support these clients and to be part of improving our healthcare system," she said. "There's a problem we aren't addressing, and it goes beyond access. Even when people of different races have the same access to care, they don't have the same outcomes."
Tempesta believes it would be beneficial for caregivers to move toward a more person-centered model. "We need to start assessing needs collaboratively with a patient and their family, rather than thinking we know best what they need," she said.
Tempesta will graduate in May. She named several staff and faculty members in the nursing program who have been instrumental in helping her get through the program, as both a non-traditional student and a new parent. She's especially grateful to Deb Henderson, Hope Ballentine, Kristina Simpkins-Spain and Diana Dunbar. She has continued to work as a doula while in nursing school. She said the role has taught her how to be a better nurse, partner, family member and friend.
"It especially has helped me orient myself in my role as a nurse, helping people seek, understand, consent to and receive the care they need," she said.