Northwest Arkansas tourism, promotional organizations take hit during pandemic, stay hopeful for future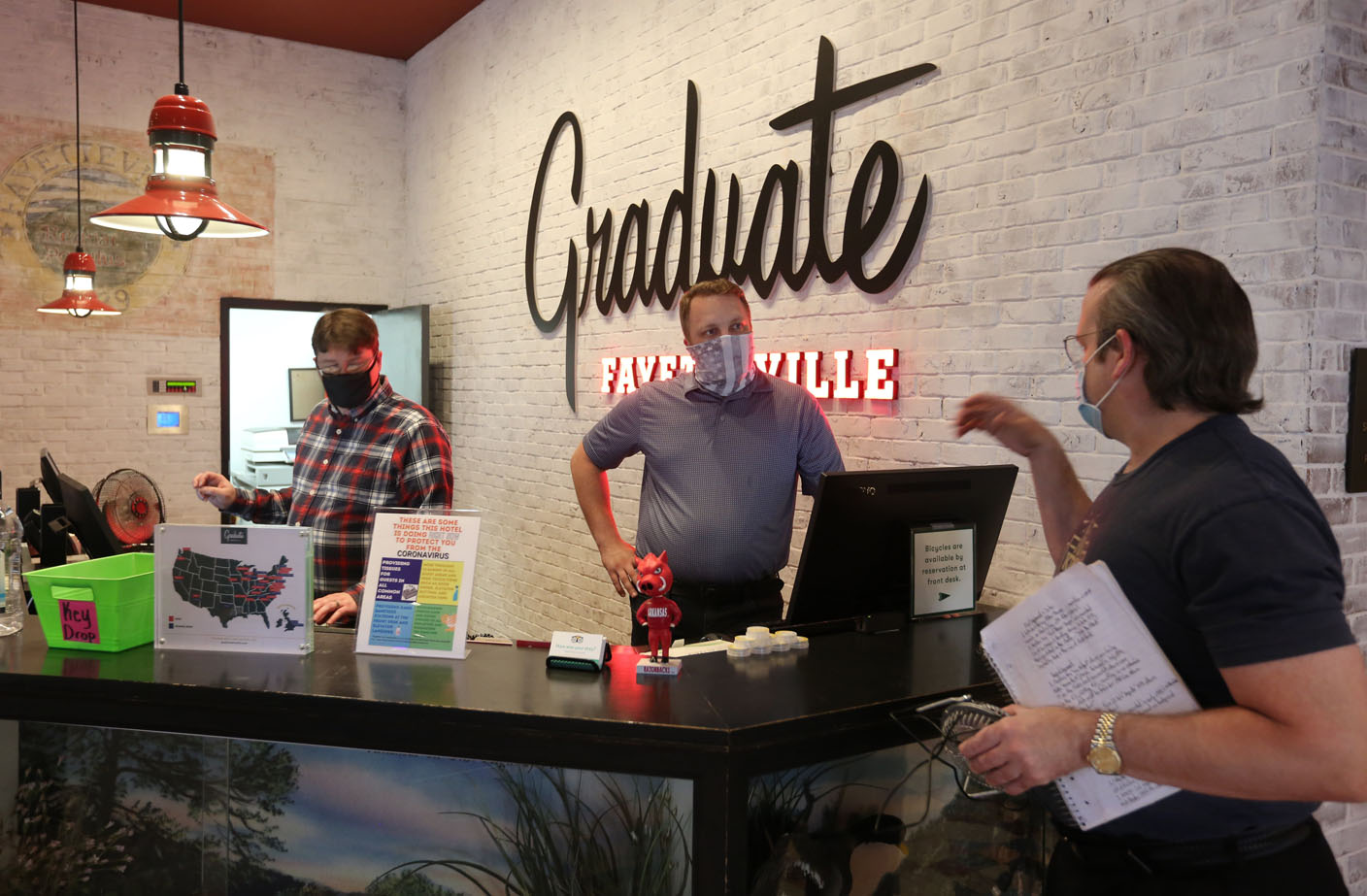 FAYETTEVILLE, Ark. — Northwest Arkansas tourism officials are doing what they can with the resources they have to promote their cities, even as most events have been canceled and as people have mostly stopped traveling.
The hope is that April was the lowest point in lodging and restaurant tax revenue during the pandemic.
The four major cities of Northwest Arkansas all have some kind of hotel, motel and restaurant sales tax, in addition to regular city, county and state sales taxes. However, the rates, what is taxed and what the money is used for varies.
Gov. Asa Hutchinson banned recreational travel into the state April 4. Occupancy at hotels, motels and vacation rentals was limited to health professionals, public safety and government employees, family members of hospital patients, journalists, people unable to return home because of the pandemic, and a few others.
Hutchinson lifted the ban a month later but required travelers from a handful of "hot spot" states at the time to quarantine for two weeks upon arrival. All restrictions on travelers were lifted June 15.
Sit-down service at bars and restaurants was halted March 20. Restaurants were allowed to resume dine-in service at one-third capacity May 11. Bars followed on May 26.
Phase II of the state's reopening began June 15, allowing bars and restaurants to go to two-thirds capacity as set by the fire marshal.
Hotel, motel and restaurant sales tax revenue in Northwest Arkansas started dipping in March and dropped dramatically in April.
Fayetteville, Springdale, Rogers and Bentonville collected nearly $2.1 million in lodging and restaurant tax revenue from March to April last year.
This year, the cities collected about $1.1 million during those two months, a 46% drop. May numbers aren't yet available.
Hotels never were instructed to close, but some did, said Montine McNulty, chief executive officer of the Arkansas Hospitality Association. Leisure travel — quick stays for a weekend or a few days — among Arkansans and people from border states appears to be slowly coming back, she said.
"They are looking for outdoor activities," McNulty said. "What better state to come to than Arkansas? Our beautiful trails, our fishing, our hiking, our boating — we have lots of outdoor activities — and that's appealing to people."
PROMOTION EFFORTS
Hotels and restaurants can open with safety protocols in place, but it's a matter of getting customers. That's where municipal advertising, promotion and tourism organizations can help, McNulty said.
Fayetteville's Advertising and Promotion Commission last week approved cutting more than $1.2 million from its $5.3 million budget for the year, using surplus money to cover a $734,000 shortfall. Cuts were made primarily to promotional and event-related expenses. Some employees of the city's tourism bureau, Experience Fayetteville, were laid off or furloughed.
Molly Rawn, chief executive officer of Experience Fayetteville, said the bureau still has a state-mandated purpose to promote the city despite budget cuts. Those efforts have largely turned inward, with the bureau trying to draw regional visitors and support local businesses, she said.
The Experience Fayetteville website has a list of restaurants offering curbside, delivery or drive-thru service, as well as noting which ones have resumed dine-in service. The bureau also is focusing on promoting outdoor activities to tap into the leisure travel market, Rawn said.
Experience Fayetteville has been encouraging organizers to postpone — rather than cancel — their events if possible.
A few events are still scheduled in Springdale around Christmas, said Bill Rogers, vice president of communications and special projects with the city's Chamber of Commerce. Events include the Burlsworth Trophy ceremony in December, Caroling on the Creek and a few others that haven't made announcements, he said. Rodeo of the Ozarks, which would have happened this month, was canceled last week.
Springdale taxes only lodging, not prepared food, and it has a much smaller budget compared with Fayetteville. Last year, the tax brought in just short of $523,000 in revenue. Most of the money goes toward putting on events, Rogers said.
Chamber officials and advertising and promotion commissioners are hopeful that events scheduled for the fall and winter will still go on, he said.
Revenue for the first four months of the year was down 35% compared with the first four months of last year. Springdale received $162,436 in lodging tax revenue from January to April 2019 and received $106,148 in the same months this year.
All hotels are back open now, Rogers said. Springdale, like other Northwest Arkansas cities, is waiting to see when travel might resume, he said.
Lodging tax revenue for April was about the same in Rogers as it was in Springdale, even with a higher tax rate. The city levies a 3% tax on lodging, as opposed to Springdale's 2%.
Rogers received just more than $13,000 in April. Last year, the city received more than $111,800 in April.
Like Springdale, Rogers was heading into a strong year before the pandemic, said J.R. Shaw, executive director of the city's tourism bureau, Visit Rogers.
A number of hotels closed in March and April, but all have since reopened, he said. The city's hospitality industry relies heavily on business travel, which appears to be slowly climbing, he said.
Still, the slowdown in business travel will leave a big hole in lodging tax revenue not just for the city, but the region, Shaw said.
Lodging accounts for about 40% of the revenue Bentonville gains from its 2% hotel, motel and restaurant sales tax. Even though a majority of the money comes from food sales, a sudden cut in lodging has had an effect, said Kalene Griffith, chief executive officer of Visit Bentonville, the city's tourism bureau.
The city collected about $11,000 in lodging tax revenue in April, compared with more than $78,000 in April 2019. March lodging tax revenue was about $31,000, compared with $80,000 for March 2019.
Restaurant tax revenue has fared a little better. March and April brought about $179,500 in food tax revenue, compared with $281,790 for those two months in 2019.
Record months in overall lodging and restaurant tax revenue in January and February helped significantly, Griffith said. The Momentary contemporary art space opening in February likely had a lot to do with that, she said.
The bureau had to cut about $800,000 from its budget for this year and may have to cut more, mostly in advertising and event expenditures, Griffith said.