No. 18 Soccer to face Red Wolves for first matchup in series history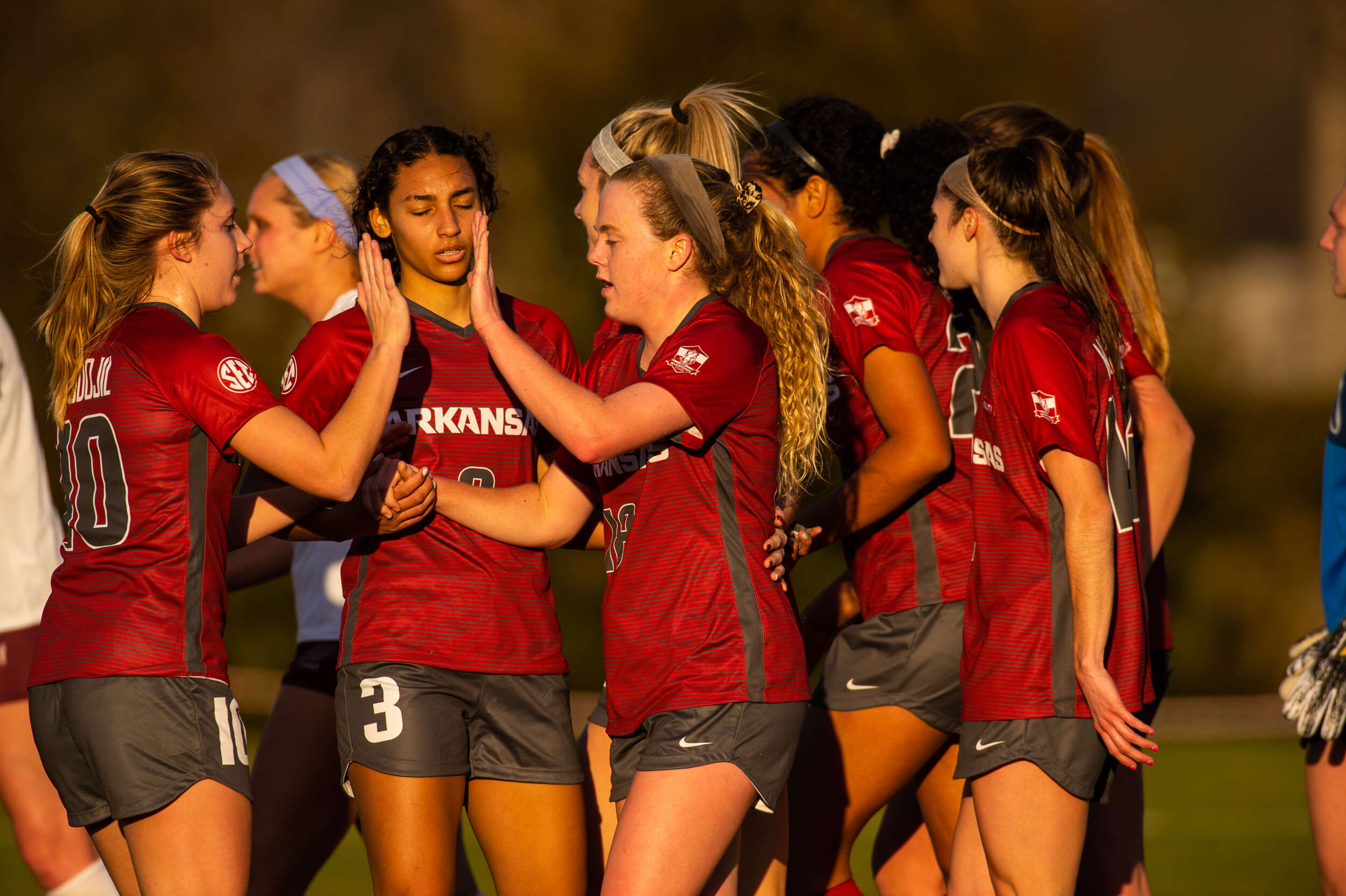 FAYETTEVILLE, Ark. – No. 18 Razorback Soccer (10-3, 7-1 SEC) is back in action after almost three weeks with a road trip to Jonesboro for a match at Arkansas State (11-3-1, 7-0-1 Sun Belt) on Saturday, March. 20. Kickoff for the first all-time matchup between the two programs is scheduled for 1 p.m. CT.
Game 14 Info
Opponent: Arkansas State Red Wolves
Location: Jonesboro, Ark.
Date: Saturday, March 20
First Kick: 1 p.m. CT
Stream: ESPN+
Scouting the Red Wolves
Arkansas State is the reigning Sun Belt regular season champions after going undefeated against Sun Belt opponents in the fall. The Red Wolves advanced to the conference tournament title game but fell to South Alabama in the final, 2-1.
Arkansas State has outscored opponents 24-7 and put 93 shots on frame this season. Sarah Sodoma leads the Red Wolves with seven goals, including four game-winners, and four assists. Megan McClure has gotten the starting nod in all 15 matches as goalie allowing just six goals and making 46 saves.
Last Time Out
Arkansas fell to No. 22 Saint Louis on Sunday, Feb. 28 by a score of 3-1 at Razorback Field. The Hogs outshot SLU, 15-6, and put six of their shots on target. Parker Goins scored her second goal of the spring and Oklahoma State transfer Hannah Warner made her second start in goal.
Quick Kicks
>> The Razorbacks and Red Wolves will be matching up for the first time in history on Saturday.
>> The two squads will play the second half of a home-and-home series when Arkansas State comes to Fayetteville on Saturday, April 10.
>> After staying put at No. 18 in the latest United Soccer Coaches poll released on March 16, the Hogs have now been ranked in all 13 polls this season.
>> Arkansas currently ranks in the top five nationally for goals (32), assists (34), and points (98), while also leading the SEC in scoring offense (2.46) this season.
>> The Razorbacks won their second straight SEC regular season title in 2020, the only two in school history.
>> Arkansas put three on the MAC Hermann Watch List released on January 28th. Senior defender Haley VanFossen was named to the list for the second straight season while Parker Goins and Anna Podojil made their first career appearances. The Razorbacks are just one of five teams nationally to have three make the list.