Law Professor Proposes Income Tax Credit for Stillborn Child in Arkansas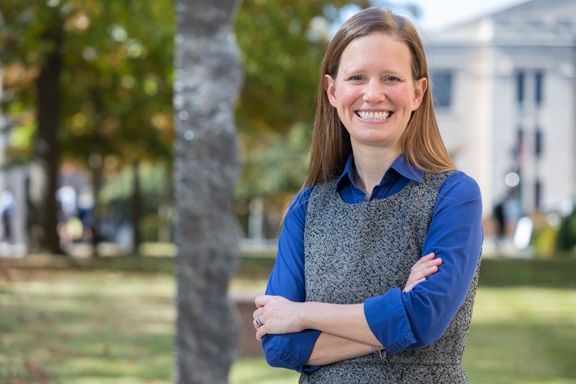 FAYETTEVILLE, Ark. – The Arkansas House of Representatives passed Bill HB1457 to establish Paisley's Law, which seeks to create a state income tax credit for a stillborn child in Arkansas. Medically, a child is stillborn if they die in the mother's womb after 20 weeks of pregnancy, but before birth. The idea for this bill was presented by U of A School of Law professor Jill Wieber Lens. While introducing and presenting the bill to the House, Rep. Les Eaves thanked Lens for bringing the issue to his attention. Paisley's Law is currently being reviewed by the Arkansas Senate.
As Lens explains in "Miscarriage, Stillbirth, & Reproductive Justice," an article forthcoming in Washington University Law Review, a federal child tax credit exists for parents due to the costs of raising children. Parents can claim this credit on their federal taxes if they have a living child who dies. This credit can still be claimed in the year that their child dies. Even if a baby is born and survives three minutes, parents can still claim the exemption/credit in the year that the child was alive and died.
However, if the child dies three minutes before birth, federal law does not allow parents any sort of tax benefit. "Certainly, parents after stillbirth, especially stillbirth at term [after 37 weeks], incur the same costs as parents whose child died three minutes after birth — costs preparing for the child for supplies, clothes, the nursery, medical costs because of the stillbirth, and funeral and burial costs," Lens says. "Yet, only the parents whose child died after birth are allowed a federal tax benefit. No logical reason exists to treat these parents differently tax-wise."
To fill the gap left by the federal system, some states — Arizona, Michigan, Missouri and North Dakota — do provide a tax benefit for parents after stillbirth. If passed, Paisley's Law will add Arkansas to this list.
Lens also states that tax credit for a stillborn child is consistent with a broader reproductive justice based right to parent — the tax credit affirms parenthood and provides financial assistance with the surprising costs of stillbirth. This financial assistance is especially important because women of lower socioeconomic status face double the risk of stillbirth than do women with higher socioeconomic status.
About the University of Arkansas: As Arkansas' flagship institution, the U of A provides an internationally competitive education in more than 200 academic programs. Founded in 1871, the U of A contributes more than $2.2 billion to Arkansas' economy through the teaching of new knowledge and skills, entrepreneurship and job development, discovery through research and creative activity while also providing training for professional disciplines. The Carnegie Foundation classifies the U of A among the top 3% of U.S. colleges and universities with the highest level of research activity. U.S. News & World Report ranks the U of A among the top public universities in the nation. See how the U of A works to build a better world at Arkansas Research News.