Hogs return home to Fayetteville following NCAA tournament run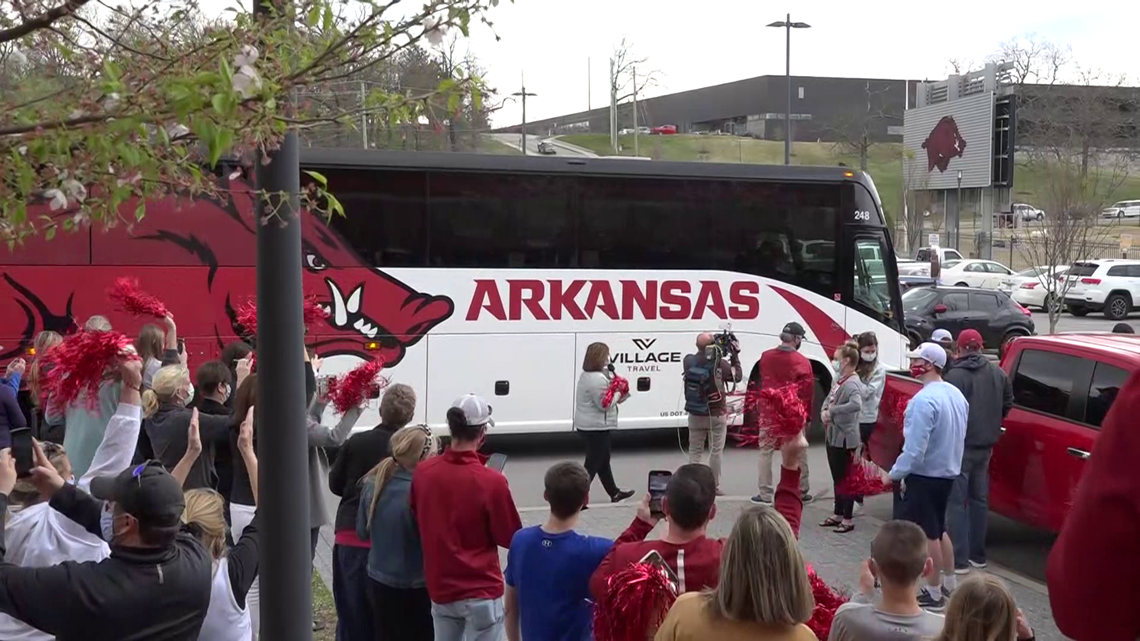 FAYETTEVILLE, Ark. — After their NCAA tournament run, the men's Razorback basketball team is back in Fayetteville.
Hog fans gathered at the Basketball Performance Center to welcome home the team as they got off their bus and show support for the run they made in the Elite Eight.
Fans told 5NEWS they show up because, win or lose, the team needs to know they played great all season and have a lot to be proud of.
"I've been an Arkansas fan for so long and that felt like the biggest game I've ever watched, and the past few games have felt like that," Steven Erbacher said.
Steven Erbacher was one of the Hog fans who came to show support for their run in the elite eight. He says the team played hard and didn't give up.
"After the start, some people would have, it would've been easy to fold over but Arkansas didn't do that, so I'm just very proud of that. Of course, it's sad when a season ends but you want to make it all the way but only one team can say they do that every year," Erbacher said.
Meredith Welch got to see the hogs play in the first round of the NCAA Tournament in Indianapolis.
"We're so proud of them. We really didn't expect them to go this far, but we knew they could do it because they are a really good team. We just wanted to come out to show them we are proud of them for how far they came and just show that we are ready for next season," she said.
Rebecca Lawson says our return to the Elite Eight was a long time coming and even though it was a heartbreaking loss she's proud of the team's success.
"We're very very proud of how far they've come. It's a great season and we are looking forward to many more with Coach Muss and our wonderful Razorbacks," Lawson said.
Workers at the Northwest Arkansas Regional Airport also gave the plane the team traveled in a warm welcome this morning when they returned home.