Heard and Dismuke Win 2021 Board of Advocates Negotiations Competition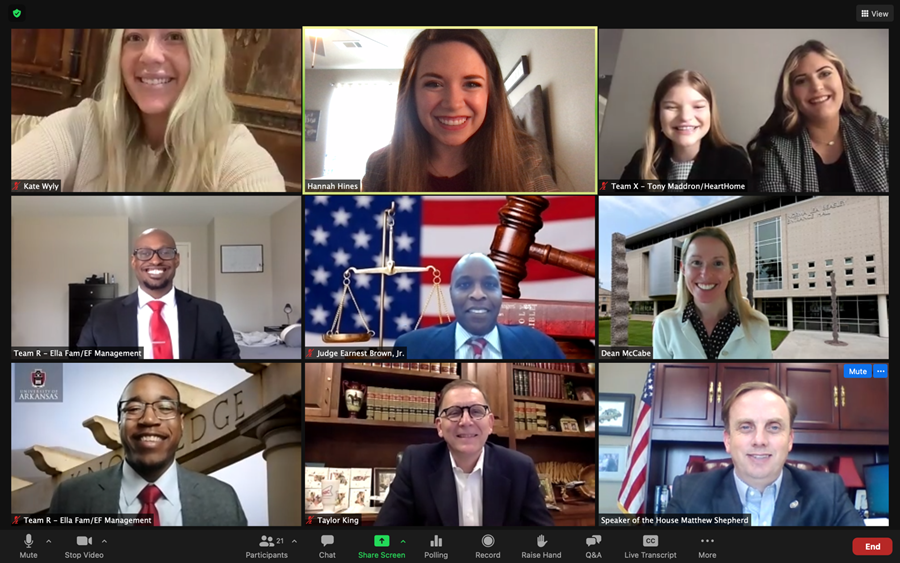 FAYETTEVILLE, Ark. – Second-year law students Collin Heard and Donta Dismuke won the final round of the 2021 Board of Advocates Negotiations Competition on April 9. They competed against third-year students Ashley Edwards and Rebekah Verhoek. The competition, which took place via Zoom, was hosted by University of Arkansas School of Law Board of Advocates.
The students presented their cases before the Hon. Earnest E. Brown Jr. (J.D. '94), circuit judge for Sixth Division of the 11th Judicial District West; the Hon. Matthew Joseph Shepherd (J.D. '01), speaker of the Arkansas House of Representatives and the Arkansas state representative for District Six; and Taylor King (J.D. '86), founder of Taylor King Law Firm.
This year's final problem involved teams working to successfully negotiate a housing contract to serve displaced refugees.
The Negotiations Competition commenced with 29 two-person teams competing in two preliminary rounds each. Qualifying teams moved to each successive event — Sweet Sixteen, Elite Eight, Final Four, and the Final Round — in a tournament-style competition.
"It was a pleasure organizing this competition and getting to witness firsthand the legal talent present at the University of Arkansas," said Hannah Hines, chair of the Board of Advocates Negotiations Competition. "Witnessing the outpouring of support from the Arkansas legal community as lawyers from across the state volunteered to serve as judges was equally humbling."
About the University of Arkansas: As Arkansas' flagship institution, the U of A provides an internationally competitive education in more than 200 academic programs. Founded in 1871, the U of A contributes more than $2.2 billion to Arkansas' economy through the teaching of new knowledge and skills, entrepreneurship and job development, discovery through research and creative activity while also providing training for professional disciplines. The Carnegie Foundation classifies the U of A among the top 3% of U.S. colleges and universities with the highest level of research activity. U.S. News & World Report ranks the U of A among the top public universities in the nation. See how the U of A works to build a better world at Arkansas Research News.