Early innings push Hogs past SEMO, 9-3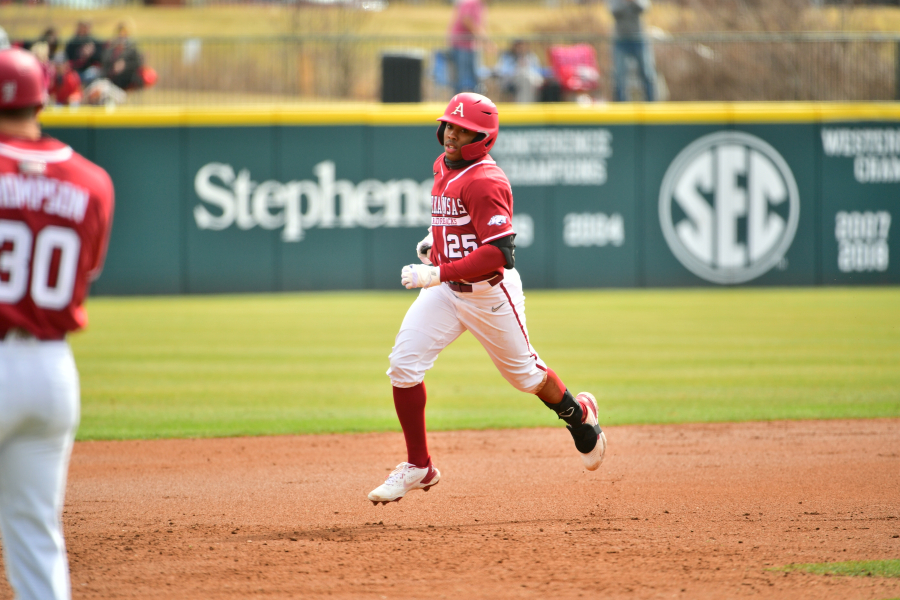 FAYETTEVILLE, Ark. – No. 2 Arkansas got the bats going early and never looked back in a 9-3 win over Southeast Missouri State on Saturday afternoon at Baum-Walker Stadium in Fayetteville.
The Razorbacks (6-0) plated 4 runs in the first inning and padded the lead in the next three, while starter Peyton Pallette recorded 8 strikeouts and held the Redhawks (2-4) to just 3 hits and a walk through 5 innings.
Christian Franklin went 4 for 5 with 3 RBI including his third home run in three days in the second inning. Robert Moore finished 2 for 4 with an RBI.
Moore got the day started with a leadoff walk and a stolen base before Franklin's single to center made it an early 1-0 game. Franklin stole second, and another sailed throw from the plate allowed him to move to third.
Designated hitter Matt Goodheart, making his first appearance of the season, singled to right field to score Franklin and push Arkansas' lead to 2-0. Goodheart stole second and then advanced to third on a wild pitch, which prompted an early SEMO pitching change as Ryan Vogt was replaced by Bryce Grossius.
Arkansas made it a 3-0 advantage when Brady Slavens grounded out for first base, allowing Goodheart to score from third. Following a two-out walk by Cullen Smith, Casey Opitz singled to right field to give the Hogs corner runners. Another wild pitch scored Smith from third, pushing the lead to 4-0 and moving Opitz to second base. Grossius walked Jalen Battles, but struck out Zack Gregory to strand a pair of runners and finally get out of the inning.
The Hogs stayed hot in the second inning as Moore led off with a single and Franklin hit his third home run in three days. Franklin's 2-run shot to right-center pushed the Razorbacks' lead to 6-0. Wallace doubled but was left stranded as Smith grounded out to end the second inning.
SEMO had corner runners with two outs in the top of the third, but Peyton Pallette worked out of the jam and keep the Redhawks scoreless.
Battles doubled down the left field line and SEMO made another pitching change as Matt Perego relieved Grossius. Moore introduced himself with an RBI single to right field to score Battles and make it a 7-0 game. Franklin singled to left to place runners at the corners, and Moore scored on a wild pitch to extend the lead to 8-0.
Perego finally worked out of the inning when Wallace flied out to right field, stranding runners on second and third.
The scoring continued in the fourth when SEMO center fielder Danny Wright failed to come away with the would-be third out on a deep fly ball from Battles. The error scored Smith, who had doubled two at-bats earlier, to make it a 9-0 Arkansas lead. For the second inning in-a-row, the Razorbacks stranded runners on second and third as Moore grounded out to end the inning.
Pallette gave up a single but picked up his seventh and eighth strikeouts of the day in the top of the fifth. The Redhawks swapped Perego for lefty Joey Kossina in the bottom half of the inning. Kossina stranded Goodheart at second to give the Hogs.
Nate Wohlgemuth replaced Pallette to start the sixth. Tyler Wilber led off with a walk and Austin Blazevic followed with a single. Andrew Keck flied out to center to move Wilber to third. Lincoln Andrews reached on an error to give the Redhawks their first run of the day and make it a 9-1 game. Wright walked to load the bases with just one out, prompting Van Horn to replace Wohlgemuth with Zack Morris.
Morris got back-to-back strikeouts to work out of the bases-loaded jam. He would be relieved by Kole Ramage to start the seventh inning.
Keck added a solo homer against Ramage to start the eighth to cut into Arkansas' lead, 9-2. Ramage was quickly pulled for Matthew Magre.
After an uneventful few innings, the Razorbacks resparked in the bottom of the eighth. Slavens and Opitz singled before Braydon Webb came on as a pinch runner for the catcher. Webb and Slavens advanced to second and third, but White went down swinging to end the frame.
Gabriel Starks took the mound for Arkansas to start the ninth. SEMO tacked on a late run in the game's final inning when Braxton Zivic scored on a groundout by Leeper.
The Hogs and Redhawks are slated to wrap up their four-game series on Sunday. First pitch is set for 1 p.m. and will again be available on SECNetwork+. Lefty Lael Lockhart will get the start for Arkansas while SEMO's starters remains TBA.