Construction nears on 4-story building for UA's art district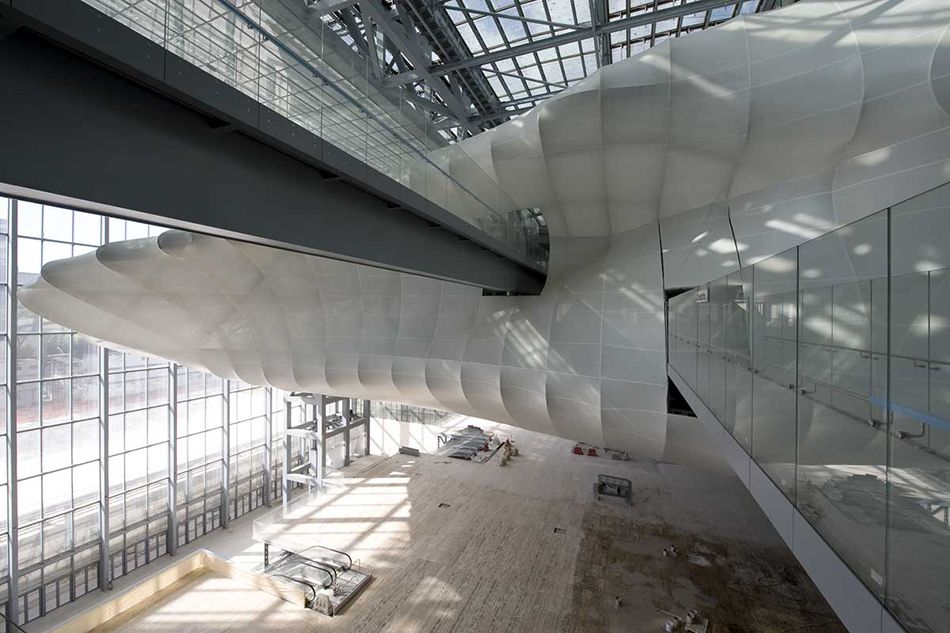 FAYETTEVILLE, Ark. — Construction is expected to begin this fall on a new four-story art building that's to be the largest piece of the Windgate Art and Design District, a cluster of high-profile University of Arkansas buildings a few blocks from the main campus.
The $55 million project will be paid for using a $40 million grant from the Windgate Foundation — the single-largest grant ever from the Little Rock-based organization that has given hundreds of millions in grants — and $15 million in university reserve funds, said Mike Johnson, UA's associate vice chancellor for facilities.
Work on the 154,660- square-foot building is to begin in late October or early November, Johnson said, with a completion date of June 2022.
Gerry Snyder, executive director of the UA School of Art, said the new facility "will be state of the art" and help UA's art school grow in size.
The new art building will be near the existing Sculpture Studio. The university also plans to add another major building, the Anthony Timberlands Center for Design and Materials Innovation, at the site.
Snyder said the pandemic "doesn't negate the need for the new building." Art students now are spread across the UA campus to make use of limited space, he said.
"It's important to move forward," Snyder said.
In 2017, the university announced an unprecedented $120 million gift from the Walton Family Charitable Support Foundation supporting UA's art school. It's the single largest gift to a U.S. university in support of its art school, according to UA.
Snyder joined the university in July 2019 after a national search.
With a "wonderful" design, the building also "is just going to give visibility to the School of Art," Snyder said.
"When new students are coming to look on campus, it will generate a lot of excitement. It will generate more applications. In the end, we will become more selective," Snyder said, referring to graduate programs that he said have already begun to turn away a higher percentage of applicants than in past years.
Renderings show two stories of glass at the building's main lobby entrance, set back slightly from Martin Luther King Jr. Boulevard, a commercial thoroughfare that connects the district to the main UA campus about four blocks away.
"It's definitely got an urban edge. It's got a facade right up on Martin Luther King. But it has transparency," said Nancy Blankfard, an architect with Minneapolis-based HGA who led the design work on the project. Another firm, Fort Smith-based MAHG Architecture, also assisted.
"You can see through the building to the courtyard beyond. It's not just into the lobby," Blankfard said, with the idea to showcase the "vibrancy and movement" at the site. The courtyard will be an "amphitheatre-like space," said Ian Ford, a senior associate and project manager with HGA.
The metal-panel building will have a white exterior, Ford said. Roughly a third will be devoted to "glazing," an architectural term that refers to the glass components of a design.
Little Rock-based Clark Contractors is the construction manager for the project.
Inside, Snyder said "each media area is tripling in size," describing the current facilities for many art disciplines as "a bit cramped and dated."
Ford said about 65% of the interior space is for producing art or showcasing it.
"It's not a classroom building," Ford said.
Generally, the idea is for two art disciplines to be based on each floor, including painting and drawing on the top floor, Ford said. Work areas and gallery-like spaces on different floors will be visible with a glance up or down, Ford said.
"We really paid attention to ensuring that, from floor to floor, you felt connected," Ford said.
HGA previously designed UA's Faulkner Performing Arts Center, a 2015 renovation of a structure known as the old Field House.
The new art building won't be closed off from the public, Snyder said.
"We are planning a coffee shop for the students but also for the community. They'd be welcome to come in, get coffee and be able to sit," Snyder said.
He also referred to plans by the city of Fayetteville for what it calls its Cultural Arts Corridor, an area that includes the Walton Arts Center on West Dickson Street.
"This will anchor the southern edge of that district," Snyder said.