Arkansas signee Thorvaldson named national runner of the year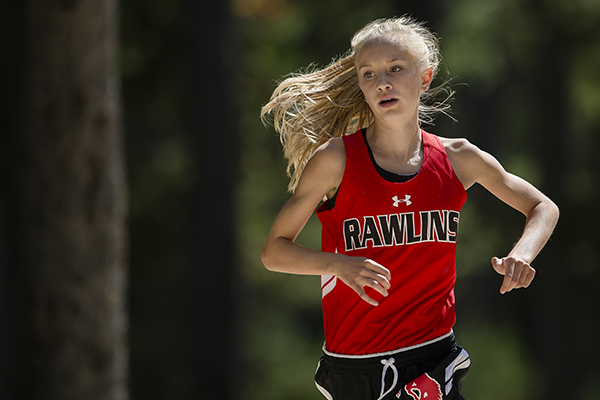 FAYETTEVILLE, Ark. — A signee with the University of Arkansas women's cross country and track and field program is a Gatorade national award-winning high school distance runner for the second consecutive year.
Sydney Thorvaldson who is from Rawlins, Wyo., and signed with Arkansas last fall, was announced this week as Gatorade's 2020-21 national girls cross country runner of the year.
Last year, Taylor Ewert, a freshman runner for the Razorbacks from Beaverton, Ohio, was the Gatorade national girls track and field athlete. Ewert helped Arkansas win the SEC cross country title last fall.
"I'm pretty close with Taylor," Thorvaldson said. "She helped me navigate through the whole recruiting process. When I took my unofficial visit to Arkansas, she showed me around.
"To see that she got [the Gatorade national] award, and now me, I think it just goes to show that Arkansas really is going to be a great program. It already is. Hopefully I can help make it better."
Thorvaldson chose Arkansas over Oregon, Stanford and Northern Arizona.
"She was on everybody's recruiting list, because she's been at the forefront her entire career," Arkansas Coach Lance Harter said of Thorvaldson winning or finishing in the top three at several national high school races. "She made a mark very early in her career, and she's just continued to develop.
"She's one of those that likes to take the lead, and if you're going to run with her, you're going to pay the price. And she has a way to finish strong as well.
"I think she's going to be a great asset for us in the years to come. She's a phenomenal talent."
Thorvaldson is among four cross country signees for Arkansas along Allie Janke of Spokane, Wash.; Heidi Nielson of Katy, Texas; and Carmie Prinsloo of Pretoria, South Africa.
"We have a phenomenal freshman class that's coming in next year," Harter said. "Sydney's an integral part of it."
Thorvaldson said she first was contacted by Arkansas as a high school junior and after learning more about the program had it among her top choices.
"I really just felt like it was the perfect fit for me after visiting," Thorvaldson said. "The community really supports the athletes, and then the facilities, coaching and team are all phenomenal.
"And I felt like they wanted me as more than just an athlete, but also as a person, a student. Everything just kind of matched up with what I saw as the perfect college."