Arkansas Red-White Game kicks off today in Fayetteville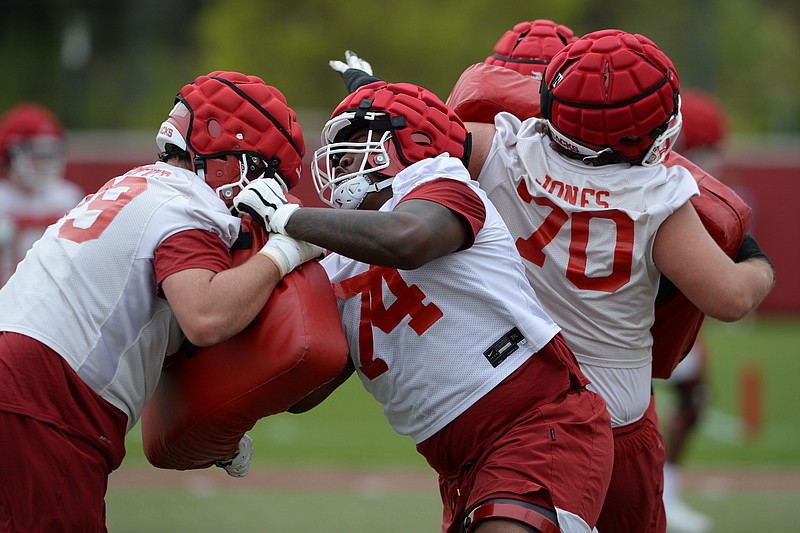 FAYETTEVILLE, Ark. – The Arkansas Razorbacks will compete in the annual Red-White Game on Saturday at 2 p.m. (CDT) in Donald W. Reynolds Razorback Stadium with the No. 1 offense and No. 2 defense appearing as the White Team and the No. 1 defense and No. 2 offense appearing as the Red Team. It is the first Red-White Game in over two years as the entire 2020 spring was cancelled due to the COVID-19 Pandemic.
The four-quarter game is expected to last approximately two hours with a running clock until the final two minutes of each half. Fans watching the game, which will be aired on SEC Network+ (that means the streaming), should expect to see in the vicinity of 100 to 110 total plays. The game will come complete with special teams in all phases, but that area of the game will not be live tackle. Quarterbacks will also be off limits to tacklers.
Spring games typically feature big offensive numbers for football-starved fans to digest in the middle of April, as the offense usually faces a reserve defense. While impressive statistics might excite fans, head coach Sam Pittman doesn't see how that is going to make the team any better. So, 1s will face 1s, and 2s will face 2s.
"I don't know how we're going to continue to get better if we don't go good on good," Pittman said.
Fans are allowed to enter the stadium one hour before kickoff and may park pretty much anywhere around the stadium aside from the parking area to the direct south and southeast of the stadium. Fand may park in Lots 72, 72, 73A and 74 at the west of the stadium and Lot 44 to the north. There will be cheerleaders and a band in the stadium and on the field… which in a way will help make the game more like a normal game atmosphere than what was seen live during the 2020 season. Masks are required, as is the SEC's clear bag policy. There are still opportunities to reserve a free ticket by clicking here. The forecast calls for rain earlier in the day, but it is still expected to be overcast and around 47 degrees at kickoff with a high of 54 degrees Saturday.
"I'm going to guess around 15,000 probably, hopefully, that will be here," Pittman said. "The weather's going to be about perfect for football from what I understand. It's going to be about 55 or 56, 57, 58, somewhere in that area. I think I saw Steve on here, he'd probably know the weather better than me. Anyway, I think it's going to be a great day for football. I don't think there's much rain in there. I think we had close to 15,000 people say they're coming on the free ticket type deal. So, we're looking forward to having that many plus some more if we can."
Several players will be missing in the game due to injuries, including starting right tackle Dalton Wagner and backup right tackle Ty'Kieast Crawford. They will be replaced by redshirt freshman Marcus Henderson as the starter, who had been working as the backup left tackle before this week. Wide receiver Tyson Morris, linebacker Hayden Henry and cornerbacks Khari Johnson and Devin Bush are expected to miss, as well. Defensive end Jashaud Stewart and defensive tackle Isaiah Nichols are questionable and won't see many reps if they do play.
Several Razorback recruits are expected to be in attendance (VIP), though they won't be able to have face-to-face interaction with the coaching staff.
"I just look to show what I've been working on this whole spring, just technical aspect improvements. And as a whole, as a team, we just want to put on a good performance, show what we've been working on, just polish everything up — the run game, the passing game — and just show that we're ready to compete this fall.
"I think having a spring ball is a major tool for any player, especially if you're working on your individual games. I know last year we didn't have it, so we couldn't work on certain stuff, but I feel like this year has really helped us as a team. This spring ball, like I said, we've been working on becoming physical, and we've done that this spring, and we've proved it."
"I want to make a statement how much better I've gotten from last year. I want to show people that I've actually gained weight and am starting to get better with my technique. And collectively I just want to actually show people that we've been working over these past three weeks and that the thing from last year was great but it has no comparisons with what they are going to see this upcoming season.
"Every day we need to just work as hard as we can. I feel us getting better and better. You can't go all these months without football and then expect to be great after one month of fall camp. You have to have hard work in between. I feel like we've been taking these practices and we've been actually using them to our advantage."
"Trying to win, man. Trying to win. I'm on the read team. Every team I'm on, I'm trying to win. Trying to win. We're going against the starting offense. They're all on the white team, so it's going to be a tough matchup. We're going to bring our best effort. We're going to bring our best effort, and we're going to try to win this thing."