Arkansas reaches milestone on vaccinations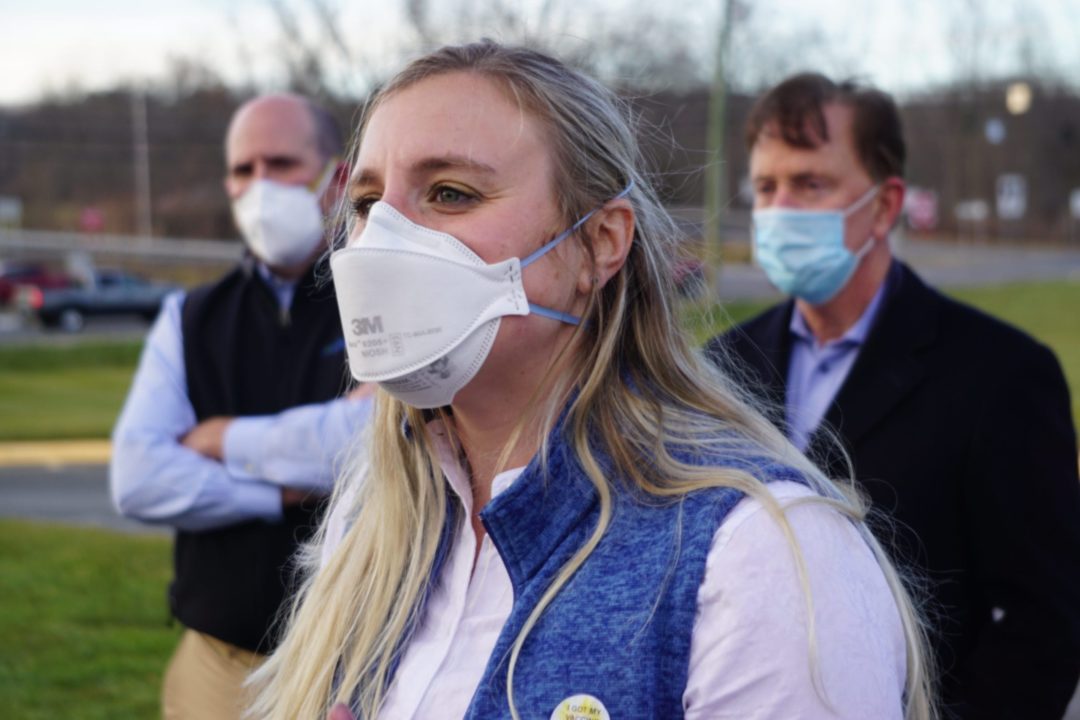 Arkansas – The proportion of Arkansans who have received at least one coronavirus vaccine dose topped 30% on Friday — a day that was also the first one since November that the state did not report any new covid-19 deaths.
Despite those milestones, the decline in new coronavirus infections in the state showed further signs of stalling as the number of people hospitalized with the virus jumped by 19.
Also on Friday, the Department of Health said a covid-19 case caused by the more-transmissible variant from Brazil was identified in Arkansas this week for the first time.
Meanwhile, the state Department of Corrections announced that it would begin allowing visitors at six more prisons late next week under a pilot project that resumed at four other prisons last month.
Department spokeswoman Cindy Murphy said the department will begin vaccinating inmates after it receives a shipment of 7,300 doses of the Moderna vaccine next week.
Also on the vaccine front, state Epidemiologist Jennifer Dillaha said that, after dropping by 88%, to 5,200 doses, next week, Arkansas' weekly allotment of the single-shot Johnson & Johnson vaccine will drop even further, to 1,700 doses, the following week.
"It will be probably at that level for the next few weeks before it goes up again," Dillaha said.
The reductions followed news that a manufacturing error at a plant in Baltimore caused 15 million doses of the vaccine to be discarded and production to be halted while the U.S. Food and Drug Administration investigates the matter.
The state count of virus cases rose Friday by 178, an increase that was smaller than the one the day before but larger, by 34 cases, than the one a week earlier despite lower testing numbers reported by the Health Department.
The number of hospitalized virus patients rose to 160, its highest level in a week.
The state death toll from the virus, as tracked by the Health Department, fell by one, to 5,661.
Health Department spokesman Meg Mirivel said one death that was reported earlier was determined to be unrelated to covid-19.
No new deaths were reported, she said.
"We have administered 154,000 more vaccines doses since last week," Gov. Asa Hutchinson said in a statement. "36% of Arkansans 16 and older have received at least one COVID-19 shot. That's encouraging, but to achieve community immunity and beat COVID-19, we must increase those numbers."
The number of state virus patients on ventilators remained unchanged at 23.
According to the U.S. Centers for Disease Control and Prevention, the number of Arkansans who have received at least one vaccine dose rose by 14,019, to 911,997, representing about 30.2% of the state population.
The number of Arkansans who were fully vaccinated rose by 14,396, to 533,220, or about 17.7% of the population.
Arkansas continued to rank near the bottom of states in those measures, however.
Among the states and District of Columbia, Arkansas' percentage of residents who had received at least one vaccine dose remained the 42nd-lowest.
It also continued to rank 47th in the percentage of residents who had been fully vaccinated.
Nationally, 34.5% of people had received at least one vaccine dose, and 20.5% were fully vaccinated.
VARIANTS IN STATE
Friday was the first time since Nov. 27, the day after Thanksgiving, that the state did not report any new deaths from covid-19.
But after hitting a low for this year of 151 on April 2, the average number of cases added in the state over a rolling seven-day period has fluctuated at a slightly higher level, rising to 161 as of Friday after a slight dip the previous day.
Dillaha said she's concerned by the apparent plateau in the daily case increases because of the presence of more-transmissible variants in the state.
In addition to the variant from Brazil, the state has identified eight cases of the variant discovered in the United Kingdom and 11 cases of two variants from California.
Of those, the United Kingdom variant is the most worrisome because it "appears to confer an increased risk for severe disease and death," Dillaha said.
"I am concerned that, if we are not able to maintain low spread of covid-19 in Arkansas, that this variant will also become predominant here, and we would see increases in hospitalizations even though we may not see the increase in cases that we have seen previously in our state," Dillaha said.
The actual number of covid-19 cases caused by variants in Arkansas is unknown because only a small percentage of specimens are tested for that.
Dillaha said the increase in hospitalizations on Friday could have been caused by people who were infected during gatherings over Easter weekend "and then rapidly got sick."