Arkansas Hosts Cabo Collegiate at TPC San Antonio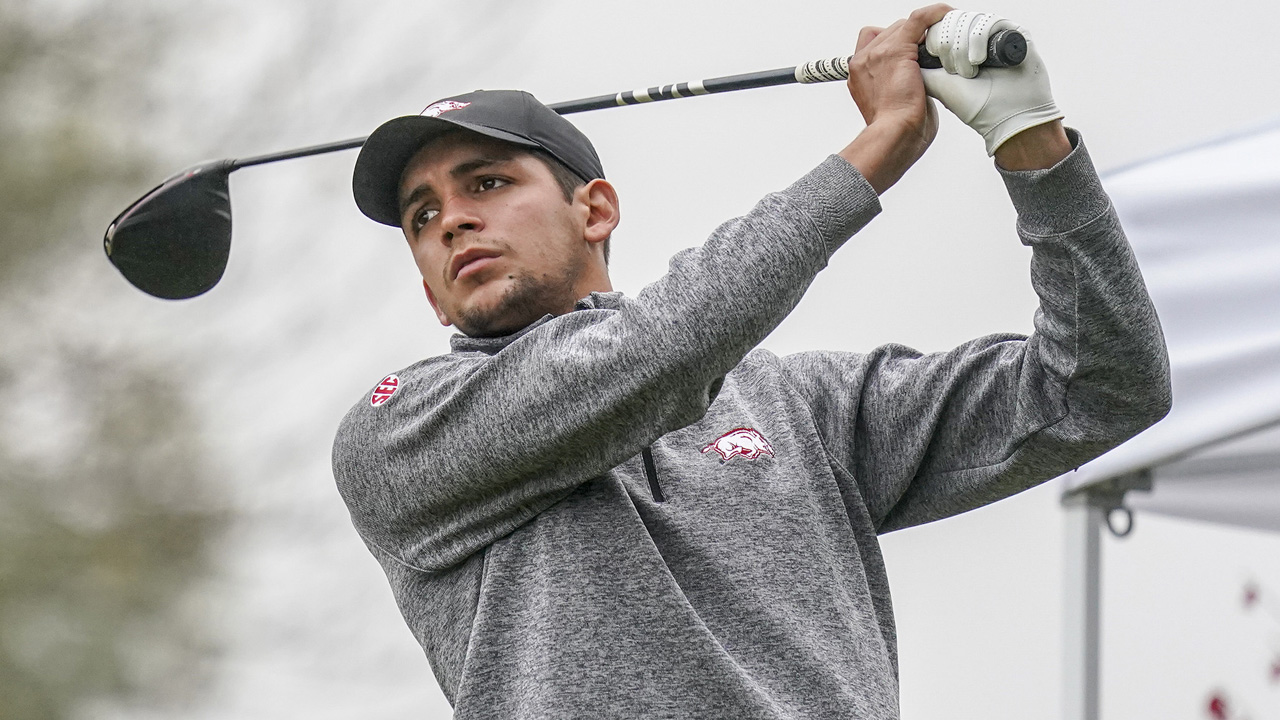 FAYETTEVILLE, Ark. – The Arkansas men's golf program will host the 11th annual CABO COLLEGIATE, played this season at TPC San Antonio's Oaks Course, from Mar. 1-3 and the field once again feature the top teams and players in college golf.
The event, usually played in Cabo San Lucas, Mexico, was moved to San Antonio this season due to COVID-19 concerns. However, the move proved to be positive this year. Since the event is being played on the Oaks Course – home of the Valero Texas Open – the winner will receive an exemption to play in that PGA TOUR event (March 29-April 4). As a side note, #ProHog and Texas native Andrew Landry won the 2018 Valero Texas Open.
The 16-team field features six of the nation's top 10 teams and 11 of the top 35 including #1 Arizona, #3 Arizona State, #4 Florida State, #7 Oklahoma, #8 Oklahoma State, #10 Texas, #15 Texas A&M, #21 Texas Tech, #23 Houston, #27 Baylor, #30 Stanford and #31 Arkansas. Rounding out the field is Abilene Christian, Cal, Rice and UT San Antonio.
Individuals include nine of the top 15 players on the PGA TOUR University ranking, which only includes college seniors, and 11 of the top 20 players on the World Amateur Golf Ranking. Heading the list are:
– John Pak (Florida State): #1 on PGA TOUR University / #7 on WAGR.
– Chun An Yu (Arizona State): #2 on PGA TOUR University / #5 on WAGR.
– Austin Eckroat (Oklahoma State): #3 on PGA TOUR University / #13 on WAGR
– Sandy Scott (Texas Tech): #5 on PGA TOUR University / #6 on WAGR.
Overall, 21 of the top 100 players on the PGA TOUR University rankings will be in the field – including Razorback William Buhl at #82 – and 29 of the top 150 amateurs in the world – including Razorbacks Julian Perico (#94), William Buhl (#115) and Segundo Oliva Pinto (#140).
Those in the field in the Golf Stat top 20 include #5 David Puig (Arizona State), #16 Pak, #17 Vincent Norman (Florida State), #20 Perico.
Arizona State is the defending champion, snapping a streak of three straight titles by Oklahoma State. Arkansas won the first two CABO COLLEGIATE championships while Houston (2014) and Florida State (2105) have won titles as well.
The individual champion – Walker Lee of Texas A&M – is also back to defend his title. Lee ranks 38th on PGA TOUR University and 75th on WAGR.
For the second straight event, Arkansas will have Buhl, Perico, Oliva Pinto, Mason Overstreet and Tyson Reeder as its quintet while Manuel Lozada will once again play as an individual.
CABO COLEGIATE at TPC San Antonio
Dates: Monday, Mar. 1 – Wednesday, Mar. 3
Host: University of Arkansas
Site: TPC San Antonio Oaks Course • San Antonio, Texas
Par: 72 • Yardage: 7,034
Format: Play 5, count 4
FIELD:
Abilene Christian, Arizona, Arizona State, Arkansas, Baylor, Cal, Florida State, Houston, Oklahoma, Oklahoma State. Rice, Stanford, Texas, Texas A&M, Texas-San Antonio, Texas Tech.
ARKANSAS' LINEUP
William Buhl
Julian Perico
Segundo Oliva Pinto
Mason Overstreet
Tyson Reeder
Manuel Lozada (Individual)