Arkansas COVID-19 cases increase by 283 Thursday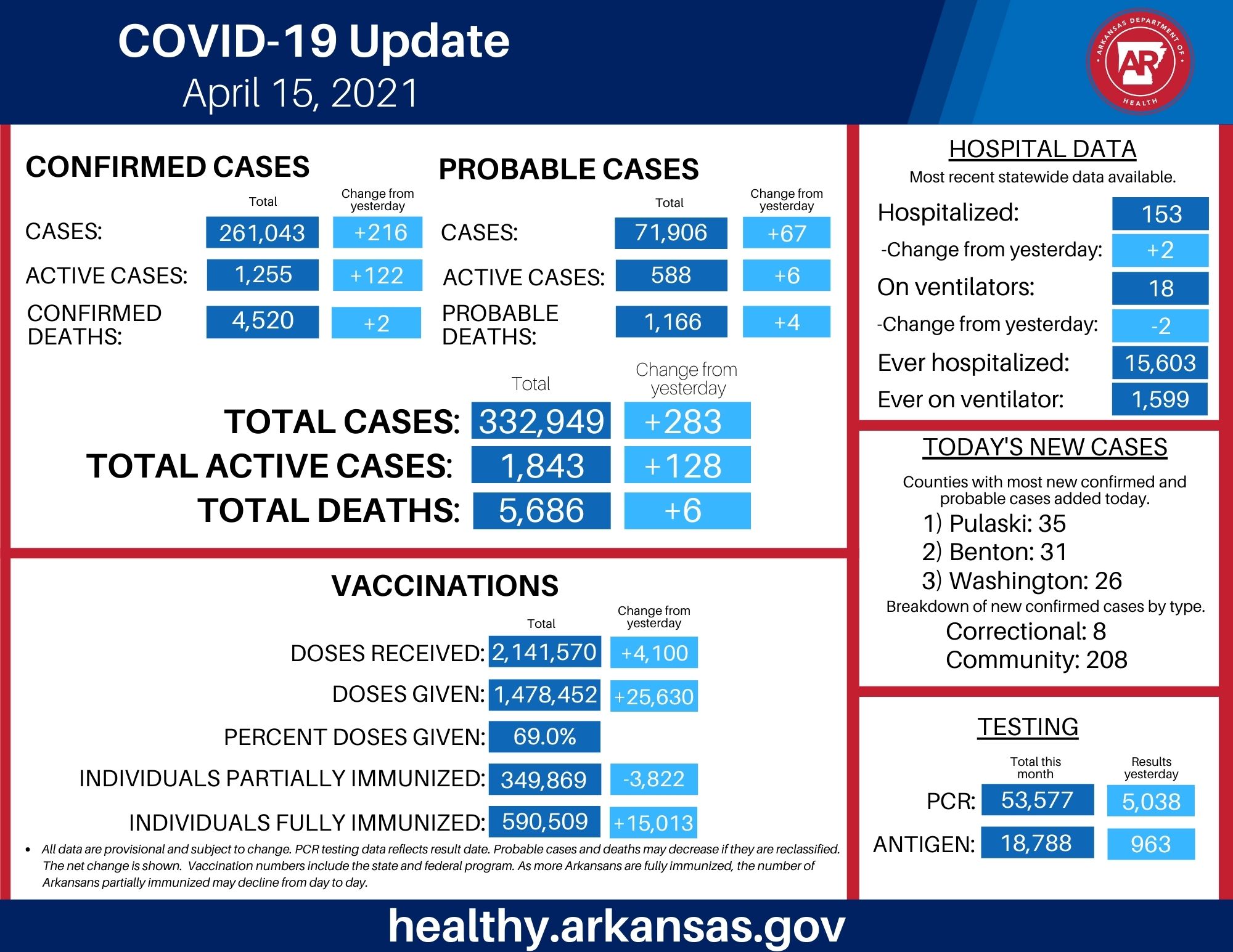 FAYETTEVILLE, Ark. – The Arkansas Department of Health announced that COVID-19 cases in Arkansas increased by 283 on Thursday.
The state announced 6 new deaths as a result of the virus, bringing the total number of deaths in the state as a result of the pandemic to 5,686.
Hospitalizations were up two, bringing the total number of Arkansans hospitalized in the state to 153. There are 18 patients on ventilators, down two from yesterday.
There are currently 1,843 cases of COVID-19 considered active in the state, which includes those that have tested positive by both PCR and antigen testing methods. The ADH dashboard currently lists 218 active cases in Washington County, and 201 in Benton County.
The new cases bring the total cumulative count in Arkansas to 332,949 since the pandemic began.
The top counties for new cases on Thursday were Pulaski (35), Benton (31) and Washington (26).
Vaccine update
The state announced that 25,630 doses of COVID-19 vaccine have been administered since last count yesterday, bringing the total number of doses given by the state to 1,478,452. The state lists 349,869 individuals as partially immunized, and 590,509 individuals as fully immunized.
All Arkansans 16 and older are currently eligible for a vaccine.
Local pharmacies, including Collier Drug, Medical Arts Pharmacy, and Heartland Pharmacy in Fayetteville are working to vaccinate Arkansans now, as are several Walmart and Sam's Club locations around the state.
Vaccination clinics are also taking place around the region, including at Washington Regional, Northwest Health, and Mercy in Springdale.
The NWA Council this week announced plans for weekly vaccine clinics in Washington and Benton Counties.