April Brings Focus on Spring Blooms, Health to Garvan Woodland Gardens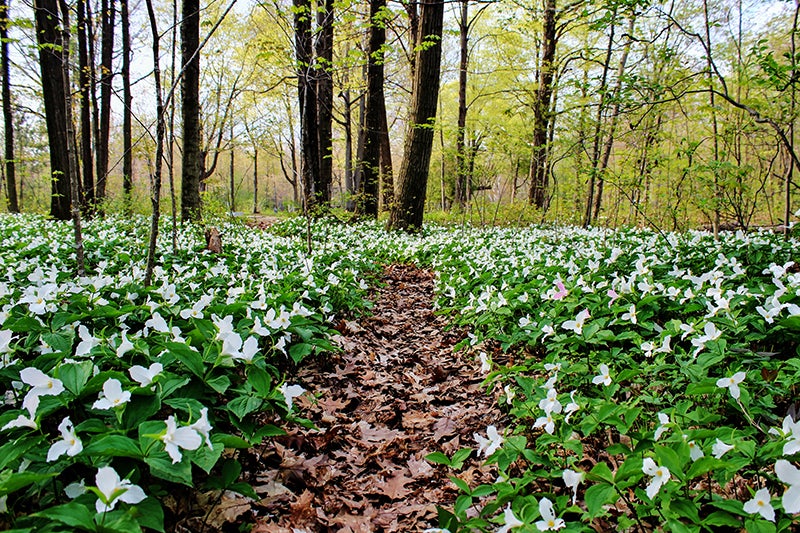 HOT SPRINGS, Ark. – Garvan Woodland Gardens has burst into bloom with the return of spring, and the warmer weather allows for more outdoor fitness opportunities.
The annual "Tulip Extravaganza" is underway, and blooms are at their peak this week. The display includes more than 150,000 Dutch tulips in brilliant hues, along with spring annuals such as dogwoods and azaleas. The timing of blooms is dependent on the weather. Up-to-date photos and peak bloom times can be found at the Garvan Gardens Facebook page.
"Group Health Walks" will be held from 10:15-11:15 a.m. each Monday through June. Sharon Turrentine and friends will lead a three-mile walk. Walks will be held rain or shine. Participants should meet on the Welcome Center deck, and pets and strollers are welcome.
"Yoga at the Gardens" will take place from 10:30-11:30 a.m., April 17 and May 1, 15 and 29 at the Klipsch Amphitheatre. Diana Esanu, a registered yoga instructor, will teach the series, incorporating stretches, gentle poses, breath work and affirmations. A 10-minute guided meditation will follow. Participants are asked to bring their own mats.
The Tai Chi Series "Strength in Motion" will meet from 1:30-2:30 p.m. each Thursday through June, with the first class on April 1. The Oaklawn Center on Aging leads this ancient, low-impact practice that increases flexibility, balance and strength. Loose, comfortable clothing and comfortable footwear are recommended. Classes will meet on the Great Lawn.
"Walk and Learn!" tours guided by Garvan Gardens docents will be held from 10:30 a.m. to noon, April 14 and 28, May 12 and 26, and June 16 and 30. The hikes will help participants gain familiarity with the garden and stay updated on the current and recent construction projects within the garden. Participants should meet on the deck of the Welcome Center.
Garvan Woodland Gardens is the botanical garden of the University of Arkansas and part of the Fay Jones School of Architecture and Design. The garden is open from 10 a.m. to 6 p.m. daily, with the last admission sold at 5 p.m. Admission is $15 for adults, $5 for children ages 4-12, free for children ages 3 and younger, and $5 for dogs on a short leash. Some events and activities are free. Some require a fee, advance registration or prepayment.
Masks are required for entry to Garvan Gardens and in some garden areas. Check with garden staff about specific COVID-19 precautions and safety measures.
For more information about these events or to check on upcoming events, call 501-262-9300 or 800-366-4664.