1-year-old girl survived 3 nights alone without food and water in a forest with bears and wolves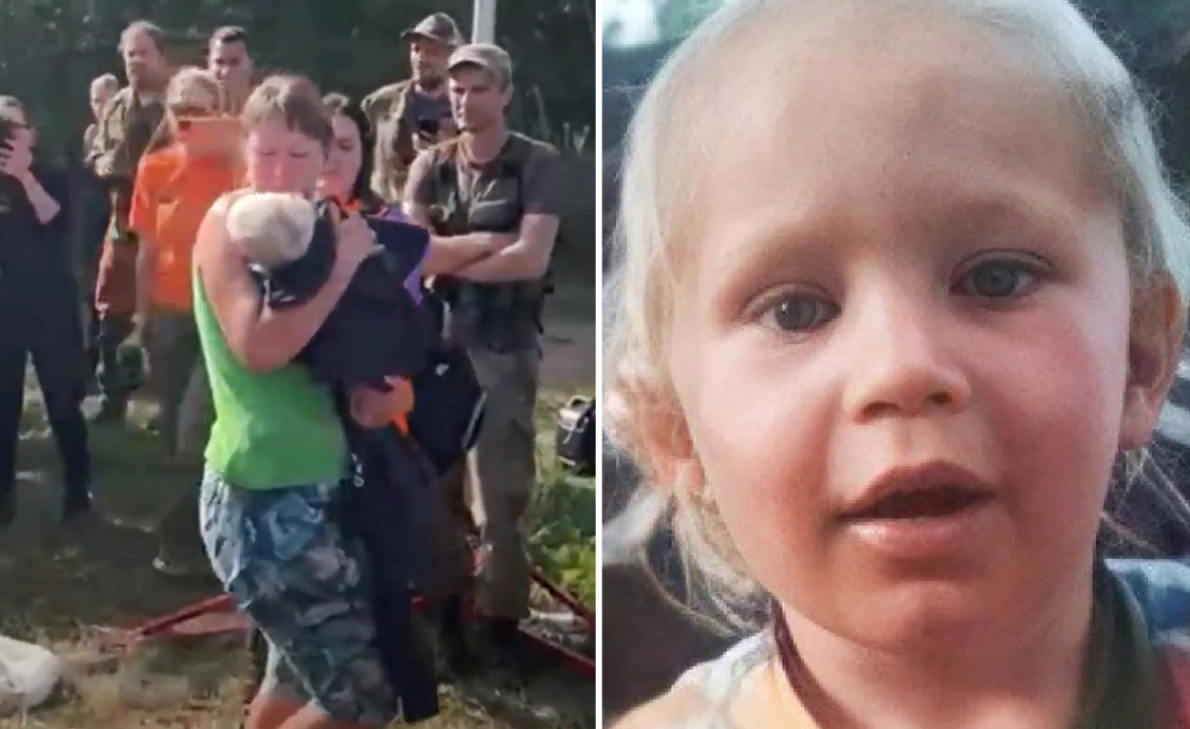 A truly miraculous series of events led to a one-year-old girl being found alive in a dense forest that's home to bears, wolves, and a number of creepy crawlies. All alone in the dangerous forest, little Lyuda survived three nights about two and a half miles away from her home. Lyuda went missing after she wandered away from her mother while playing in their unfenced garden with her 4-year-old sister. The mother had gone to visit a neighbor when 22-month-old Lyuda went into the nearby forest and disappeared. Several days passed by, and the rescue team nearly gave up until they heard a faint sound and followed it.
"One of the groups stopped to rest after searching for a long time, and suddenly they heard a faint squeak," said a spokesman for the Salvare rescue group, as quoted by Mirror. "They called again, and heard another squeak."
After spending three nights in the dense forest with no food and water, Lyuda stretched out her arms as soon as she saw the rescuers approaching her.
"Lyuda was found in a windbreak where she strayed after several days wandering in the forest. The girl was weakened, bitten by insects, but most importantly alive!" the rescue group said in a social media post.
She "immediately stretched out her thin arms to cling tightly to her rescuers… Everything is finally over," Salvare said.
"The entire HQ was sobbing. Both volunteers hardened by experience and first-timers who answered the call for the first time, as well as local residents, were crying," their post added.
Right after she was brought to safety, the little girl was taken to the ICU and given the medical attention she needed.
Following the incident, the mother said they feared the worst after failing to find her for three days.
"We thought maybe she had been knocked by a car or kidnapped," said the mother, Antonina Kuzina, according to The Sun. "After three nights in the forest, of course, we already thought that at best we will find her unconscious. On the second night there was a heavy shower, and the third night was cold. I don't know how she held out for so long."
In one of the videos shared by Salvare, one of the rescuers can be heard telling Lyuda, "Everything is good. All is perfect. You are the bravest and strongest girl in the Universe. You are the best in all space."
Veteran rescuer, Pavel Baranovsky, explained how Lyuda might not have seen her situation as dangerous in a way that adults might have seen if they were in the same place.
"An adult in such a situation begins to panic, break through bushes, run somewhere," he said. "But a child might take it as an adventure. She slept at times, and stored the resources of her body. And the 'reserves' of a person are large. You can go without food for a long time. She drank water from streams and it seemed as though for Lyuda, wandering through the woods was not a lot of stress. She did not perceive it as something terrible, except maybe at night. The only thing – miraculously she survived the cold." For now, Antonina is hoping that her daughter won't wander away again and told Komsomolskaya Pravda newspaper, as quoted by BBC: "She's quite adamant she'll never run away from Mum again. Although quite how long she'll remember that promise, I have no idea. But at least she says so."
Toddler girl survives three nights in thick forest with bears and wolves https://t.co/f0E3ONuusZ #survival

— One World 🇺🇸 (@FananzaSports) August 23, 2021