Thousands head to Oaklawn for the Arkansas Derby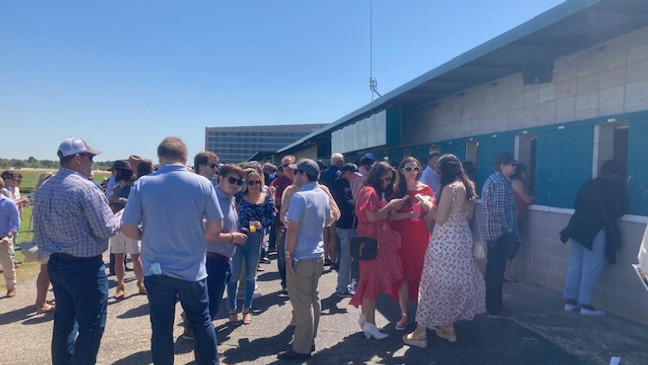 Arkansas – Over seventeen thousand people hit the race tracks at Oaklawn Saturday for the Arkansas Derby. Pre-pandemic Oaklawn said they usually pull in a crowd of 60-70,000 people.
"This is definitely the biggest event that I've been to in a year," William McGee, who's been to the Arkansas Derby for nearly a decade, said. "It's great to be able to come back. Last year we weren't able to go at all really except for early before the Covid took over."
While the derby wasn't back to its full capacity, it's a far cry from the derby of 2020 when there was no fans in sight.
"It was the most depressing time I mean to be quite honest with you," Oaklawn General Manager Wayne Smith said. "We're just very excited that we get fans."
Smith said he believes that the horses feed off the energy from the fans, which makes the race more exciting. Besides limited capacity, the casino resort mandates guest wear their mask waling around inside, but allow them to make their own decisions about mask wearing once they are outside or inside secluded from other people. Smith said depending on how the month of April goes, they may end the mask mandate at the end of the month.
For many people it was their first big outing since the pandemic hit.
"Some apprehension. I'm just not used to being around a lot of people these days," Charlie Weissinger said. "I got vaccinated. It's good to be just back out doing whatever fun things."
Despite the reservations, fans seemed ready to be back.
"It's a little bit claustrophobic but the thing about being at Oaklawn is you're outside. It's around all this beautiful scenery," Stacey Mckisick said.
Lauren Frederick is from Little Rock and has been going to the derby for years.
"You know people are wearing their masks, are being respectful, they're socially distant. So I think people are just more excited to just be outside doing something," Frederick said.
Risk taking fans put money down on which horse will make it to the finish line first.
"I've only won one of the bets I've made out of like 20," Frederick said, laughing.
"I have no idea. I'm going to pick the cutest name that I have and I wanna bet some money and hope I win," Pamela Marshall said.
The Arkansas Derby wouldn't be the same without the fashion. Fans showed out in their brightest colored dresses and suits, topped with English-wedding inspired hats.
"It's kind of reminiscent of the Kentucky derby. That's why people dress up and wear the hats," Mckisick said.
There's no question fans were thrilled to be apart of something that made them feel like life was normal.
"I feel like we're finally living again," Marshall said.