Sylvester Stallone shares photo with his three daughters, jokes he wants them to 'stop growing'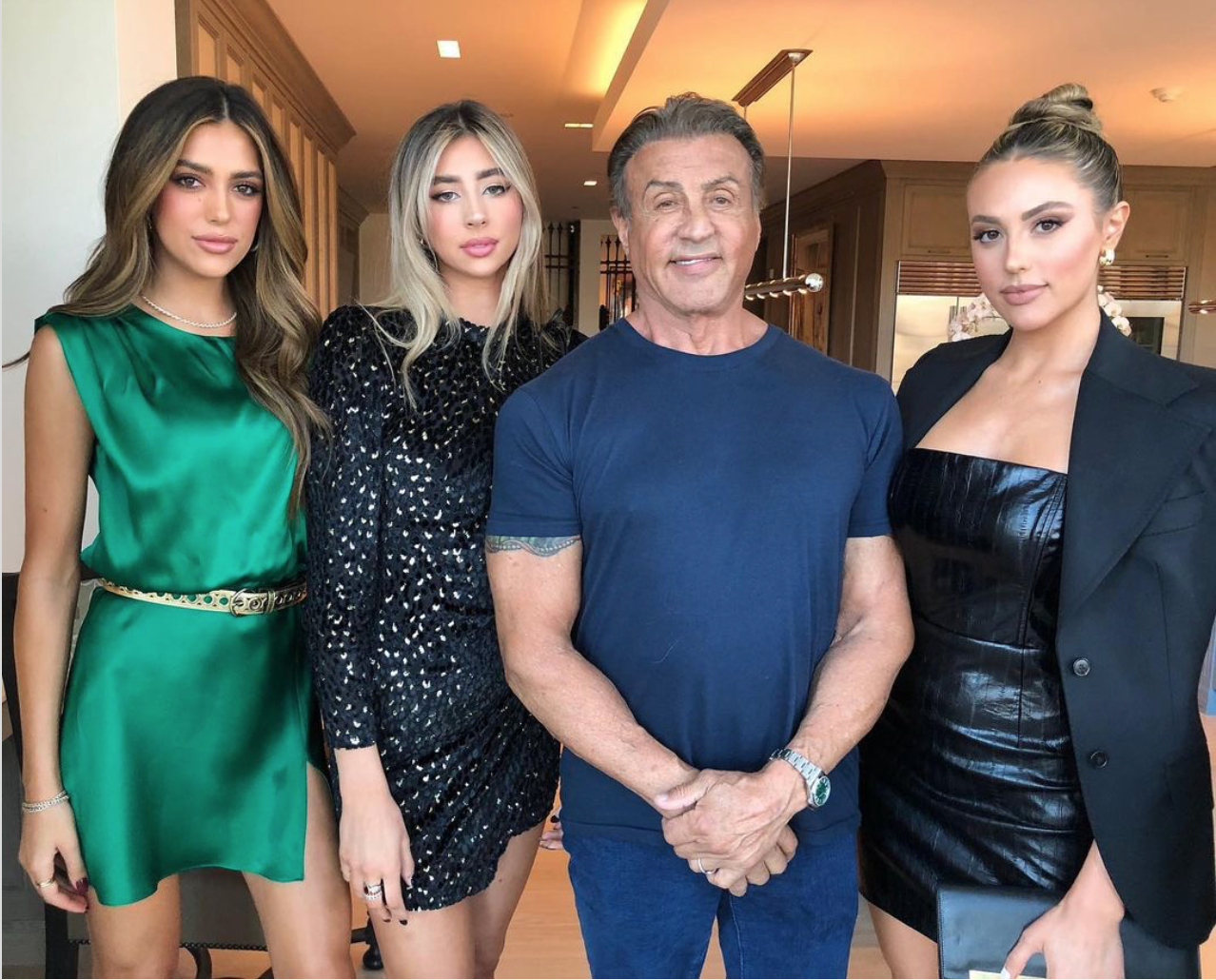 Sylvester Stallone might be a famous tough guy on screen, famous for his roles as John Rambo and Rocky Balboa, but in real life the actor has a soft spot — especially when it comes to family.
The Hollywood legend, now 75, has been happily married to his third wife Jennifer Flavin for 24 years, and the couple have had three daughters together: Sophia, Sistine, and Scarlet — all of whom have grown into beautiful young women, and Sly couldn't be prouder.
According to The Sun, oldest daughter Sophia, 24, studied communications at the University of Southern California, and Sistine, 22, has taken after her mother with a successful modeling career.
Youngest daughter Scarlet just turned 19, and celebrated her high school graduation last month.
The three daughters were also honored as Miss Golden Globe in 2017.
Their famous dad isn't shy about bragging about his daughters' accomplishments, and many of his social media posts are of him with his beautiful family.
One recent photo shows the girls dressed up and ready to head out to an event very familiar to their Hollywood famous dad: they were going to a red carpet premiere.
Following in Sly's footsteps, Sistine acted in the upcoming movie Midnight in the Switchgrass, starring Bruce Willis and Megan Fox.
Posing for a pic with his glamorous, grown-up daughters, Sly beamed with pride: "I am a very very lucky man to have such wonderful, loving children who brought me nothing but joy," he wrote in an Instagram caption.
But like many dads, he also wishes they wouldn't grow up quite so fast: "Now I wish they would stop growing so tall!" he joked.
He posted another funny photo the next day, showing him reading a newspaper featuring his daughters, joking "I wonder where my daughters have been lately? I can't seem to locate them."
(We're glad he had a good sense of humor over a caption that reads "Rocky who? Meet Sly's 3 knockout daughters.")
But like any dad, Sly is still pretty protective when it comes to his daughters, according to the girls.
 "In terms of what to say if we don't know how to answer a guy's text," Sistine told HollywoodLife. "Or if we're trying to break up with a guy he'll give us really good advice… on how to cut them off."
"There are guys that have been broken up with via my dad, and they have no idea."
While his daughters are beginning successful careers of their own, Sly isn't ready to pass the torch just yet, and continues to be a box office draw well into his 70s.
He received acclaim for his return to the Rocky Balboa role in the film Creedand its sequel, and while he's not returning for the third entry he is set to release his director's cut of Rocky IV in theaters later this year.
And he'll also be in one of the summer's most anticipated blockbusters, as King Shark in The Suicide Squad.
Image Source | Sly Stallone on Instagram