So you're about to watch a livestream Mass with a toddler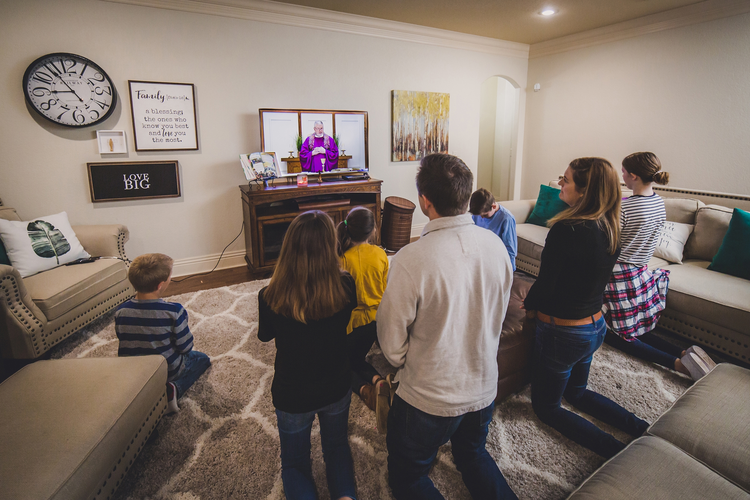 FAYETTEVILLE, Ark. – From a distance, our silver minivan in the shade-covered spot on the far side of the parish parking lot could have been any other vehicle at Mass. But inside, my 4½-year-old and 2½-year-old marched in circles past my husband in the back, spilling cheerios and pretending to be at camp. In the front seat, I attempted to breastfeed our fussy 4-month-old and catch a word or two of the homily being broadcast over the car radio, while thinking that maybe our pandemic-era catechesis was not working out as I'd hoped.
As the weather in Massachusetts, where we've recently moved, has grown colder we have abandoned our attempts at the car Masses and returned to the livestreamed services, tuning in most often to our old parish in New Jersey, which we miss dearly. And nearly every week, I think back to that March morning that was our family's very first virtual worship experience. The kids sat peacefully coloring or paging through books, as the words of the Mass washed over them. My husband and I, saved from chasing toddlers through the pews or wrestling them into our laps, actually got to hear the readings. I distinctly remember thinking: I could get used to this.
As it turns out, I could not. For reasons of health and safety—ours and others'—it has now been 10 months since I have set foot inside a church for Mass, well beyond my longest previous stretch of maybe two weeks, and that only rarely. To be away from Mass this long feels so foreign as to be nearly surreal. It is breaking my heart. I miss the Eucharist. I miss the people. I miss the literal bringing of my body to a place, even as I sometimes felt apathetic about doing so.
When it is safe to do so, we will be back at Mass, but in the meantime, I worry that my children won't remember what we are returning to.
When it is safe to do so, we will be back, but in the meantime, I worry that my children won't remember what we are returning to. I worry that my children will drift from the faith community before they even have a chance to experience it. And I worry that the kids will notice my worry and wonder why.
In the old days, as I sometimes think of 2019, my kids were occasionally squirmy at Mass, yet wherever they turned there was something that piqued their interest and reminded us of why we had made the effort to come. There were stained-glass windows that told stories and showed Joseph the carpenter holding tools and Mary riding a donkey and a huge image of Christ the King that at one point prompted comparisons to King Friday XIII. There was holy water to run their hands through and Communion lines to march in and our friendly pastor and deacon who knew us and waved to us. There was a kid driving matchbox cars up and down the pew in front of us, stacks of childrens' books in the back of the church and a huge, partial-immersion baptismal font just begging for kids to run laps around it.
And so even in the chaos of trying to keep my children contained in the pew, I consoled myself with the thought that all of this was somehow seeping into their consciousness. All of this was part of that slow work of God. I hoped that someday, when my children grew into adults and they had questions or doubts, there would be something about the sacred space of a church that would bring them some familiar comfort and feel like home.
Our current worship space—our actual home—somehow feels less-than-comforting these days. We sometimes stream the Mass in the midst of piles of laundry in our living room, while the kids play with Legos and ignore our pleas to Just Be Quiet For A Few More Minutes. One recent Sunday, they began to yell about something, and my husband began to speak over them in an attempt to calm them, and then I screamed over everyone, "I CAN'T HEAR THE READINGS." Which is both self-defeating and proof of how much I need to hear their lessons.