'Nurses Crushing COVID' Celebrated, U of A Nursing School Scholarship Announced at Event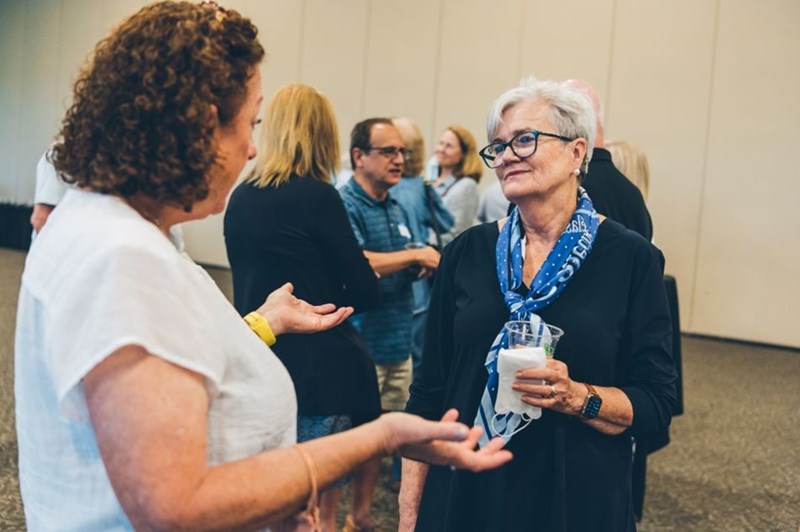 FAYETTEILLE, Ark. – Retired nurse and U of A alumna Lori Mahler felt helpless as the COVID-19 pandemic raged across Northwest Arkansas. She finally got the chance to put her skills to work when local pharmacies started receiving vaccines in January.
The pharmacies bought refrigerators and otherwise readied their stores to receive the vaccines, but there was a problem: swamped pharmacists didn't have the capacity to keep up with demand.
Mahler reached out to a few retired nurse friends who also wanted to help get shots into arms, and they offered their services. Their efforts were contagious. Soon, Mahler was deploying over 100 active and retired nurses, as well as several doctors, to pharmacies and vaccine clinics across the region.
"We were the missing link," she said.
Due to these great efforts, "Nurses Crushing COVID" was formed. The volunteers, including several other U of A Eleanor Mann School of Nursing faculty and alumni, have been administering thousands of vaccine doses to area residents over the past five months.
The volunteers were celebrated on Tuesday, May 18, at the Fayetteville Town Center for their selfless efforts.
Event sponsor Prewitt Mahler Tucker Private Wealth Management Group of Wells Fargo Advisors and the Wells Fargo Foundation also made a surprise announcement of a $15,000 scholarship to the U of A Nursing School.
Edward Prewitt pointed to the crucial role nurses have played during the pandemic and said his organization wanted to invest in the next generation.
Susan Patton, chair of the nursing school, expressed her gratitude for the scholarship in a short speech following the announcement.
Fayetteville Mayor Lioneld Jordan proclaimed May 18 as "COVID-19 Vaccine Volunteer Day" in a pre-recorded message that was played at the event. He noted that residents had many options for where to get vaccinated thanks in part to the "Nurses Crushing COVID" group's willingness to assist seven days a week in a variety of clinics and scenarios.
Marti Sharkey, a local pediatrician and Fayetteville's health officer, was among those who volunteered with the group. Speakers also included Brenna Neumann from Collier Drug Stores and Julie Stewart from Medical Arts Pharmacy. The two said they could not have handled the rush of people who wanted the vaccine without the help of Mahler's volunteer group.
Mahler addressed the crowd with awe in her voice, praising her fellow volunteers and pharmacies for "not wasting one dose."
She also thanked her son, Max Mahler of Prewitt Mahler Tucker, who organized Tuesday night's event. "There is no better feeling than knowing your kids are proud of you," she said.
Lori Mahler also handed out awards to volunteers, including Jacki Tighe, who had administered 2,403 vaccines as of that day and the nurse who didn't let a fractured foot keep her from stepping up to help.