Moses Moody grabs SEC weekly award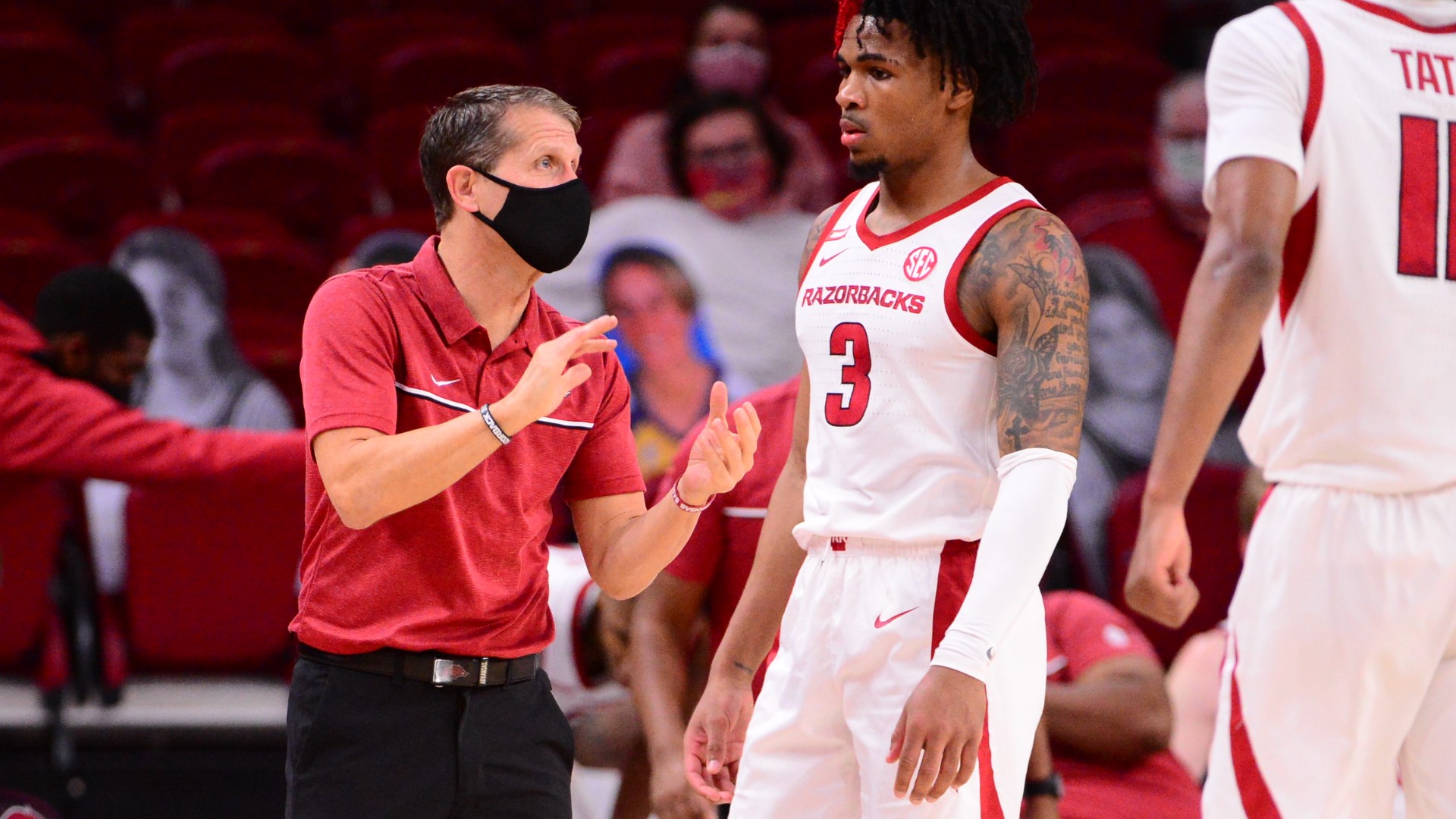 FAYETTEVILLE, Ark. — Moses Moody was named SEC freshman of the week on Monday.
In No. 12 Arkansas' home wins over then-No. 6 Alabama and LSU, the Razorbacks' star guard averaged 21 points, 6.5 rebounds, 4.5 assists and made a living at the free throw line, hitting 27 of 33 attempts.
He drew a combined 16 fouls in the two games.
Moody scored 24 points against the Crimson Tide and made 16 of 19 free throws. His four assists were good for a season-high until Saturday when he finished with five to go with 18 points and eight rebounds.
The nine assists are his most in a two-game stretch this season.
It is the second SEC freshman of the week award of the season for Moody. He grabbed the honor on Dec. 7 after averaging 21 points and 8.5 rebounds in Arkansas' wins over UT-Arlington and Lipscomb.
Moody leads the Razorbacks in scoring at 16.6 per game on 42.1% from the floor. In SEC play, he is putting up 16.4 points on 36.7% shooting. Moody has made 82 of 97 (84.5%) free throw attempts in league games.
"I think the key to basketball, a big key, is getting free throws attempted, and attacking with force," Eric Musselman said Saturday. "Moses is doing that. His shots weren't falling, but he did a great job of taking people off the bounce and flashing against their switching man-to-man. Fourteen free throws attempted is a lot.
"And he did a great job of finding an open gap, and then attacking once he got into the gap."
Arkansas, which has won nine straight SEC games, returns to play Tuesday at South Carolina (6-12, 4-10 SEC). Tipoff is set for 5:30 p.m. on SEC Network.