Men's Tennis Gears Up for SEC Tournament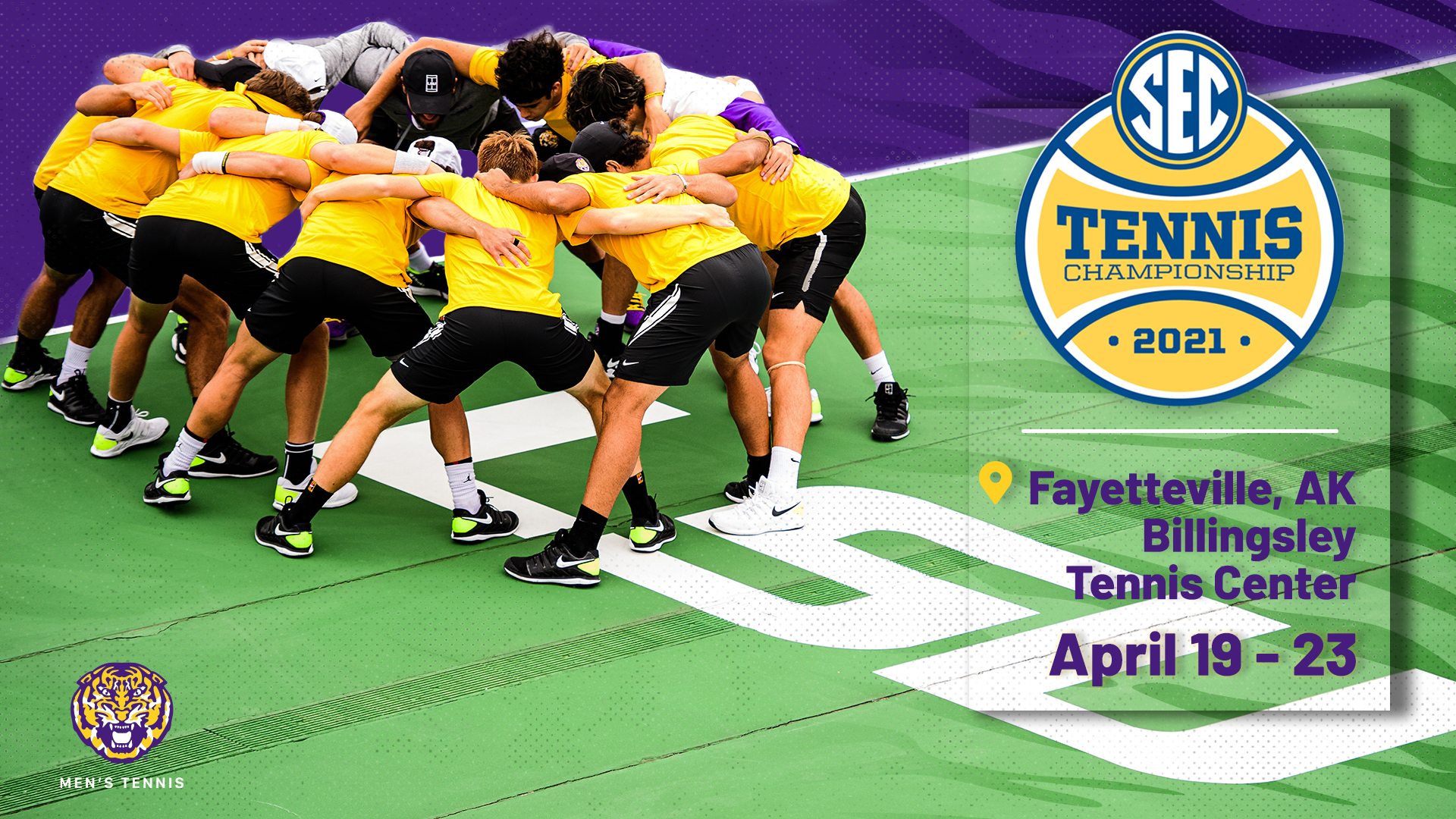 FAYETTEVILLE, Ark. —The 10th-seed LSU Tigers kick off the SEC Tournament against the 7th-seed Ole Miss Rebels on Tuesday, April 20 at 12:00 p.m. at the Billingsley Tennis Center in Fayetteville, Arkansas.
Due to the cancellation of last season, the Tigers last time in the tournament was 2019, where they lost first round to South Carolina, 4-2. LSU's last win comes from the 2015 season, when they defeated South Carolina, 4-1.
Though Ole Miss bested LSU the first time they met this season, 6-1, the match was closer than it appeared after taking a closer look. The Tigers took the doubles points from the Rebels after Joao Graca and Joey Thomas defeated Brady Draheim and Simon Junk, 6-3. Boris Kozlov and Nick Watson defeated Lukas Engelhardt and Nikola Slavic, 6-2. Ronald Hohmann and Rafael Wagner didn't play out their match against the No. 1 duo of Sandkaulen/Reynolds, but it was 5-4 in LSU's favor. In singles, Hohmann took No. 14 Finn Reynolds to three sets and Rafael Wagner took No. 46 Tim Sandkaulen to a tiebreak in the second set. The Tigers will more than likely have freshman Joao Graca on court three to take on No. 27 Nikola Slavic this time around.
Co-head coach Chris Brandi had nothing but confidence in his squad heading into the SEC Tournament.
"I'm going to be honest with you, we're a top-25 team. 100 percent, there's no doubt in my mind. However, our schedule hasn't allowed us to play at that type of level. We're playing top-10 teams every week. We know we've had a good team the whole year. They haven't overcome against these really good teams until today [Alabama on April 15]," said Brandi.
Scouting Ole Miss
Ole Miss comes in at No. 12 in the ITA Computer Polls and No. 18 in the Coaches Poll. The Rebs have three ranked singles players, No. 14 Finn Reynolds, No. 27 Nikola Slavic, and No. 46 Tim Sandkaulen. They have one doubles team ranked, but it happens to be the No. 1 overall duo in the nation. Tim Sandkaulen and Finn Reynolds are 13-2 on the season, last falling in March to a duo from Florida. Ole Miss finished the regular season with a 10-9 record and a 7-5 conference record.
With nine SEC teams being ranked in the top 25, it isn't surprising that the Rebels are ranked high despite being one win over .500. Their losses came to No. 3 Tennessee, No. 7 Florida, No. 14 South Carolina, No. 17 Kentucky, and now No. 18 Alabama.