Local organizations fight food insecurity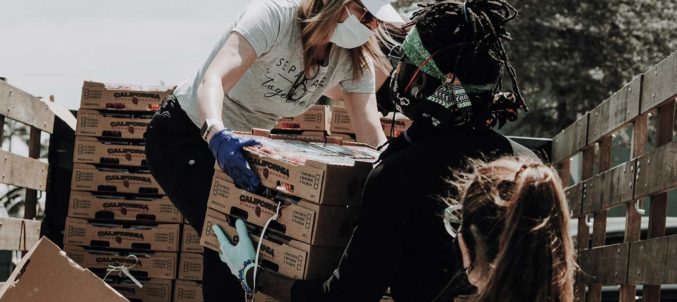 FAYETTEVILLE, Ark. – The Arkansas Foodbank in Little Rock serves 33 counties across the state. For every dollar donated to the organization, 96 cents goes toward food distribution. The Arkansas Foodbank can use a combination of donated and sourced food and the money to create five meals from one dollar. It partners with 450 agencies across the state to deliver millions of pounds of food, including several partners in Faulkner County. To make a donation or sign up to volunteer, visit arkansasfoodbank.org.
Community Action Program for Central Arkansas (CAPCA)
On average, CAPCA serves 484 households (or 1,294 individuals) each month through its food pantry, Executive Director Jennifer Welter said.
She said that the pandemic not only caused increased the need, it also canceled the National Letter Carrier's Food Drive in 2020 and 2021.
"We normally receive at least 31,000 pounds of food which helps keep our pantry open. Due to the major loss in donations caused by this event and the pandemic, our greatest needs are non-perishable food items, such as rice, canned meat, canned vegetables, soup, pasta sauce, pop top canned food, and/or monetary donations," Welter said. "We are able to stretch monetary donations further by purchasing items from the Arkansas Foodbank at a reduced cost."
She said CAPCA receives food from multiple sources – Arkansas Foodbank, The Emergency Food Assistance Program (TEFAP) and community donations.
"One Thursday a month, except for June and December, we distribute TEFAP Commodity food," Welter said. "Our TEFAP distribution begins at 8 a.m. and lasts until we run out of boxes or 11 a.m., whichever comes first," noting that they start signing people up at 5:30 a.m.
The CAPCA food pantry, which was established in 1965 and is located at 707 Robins St. Suite 118 in Conway, is open from 8:15-11:30 a.m. and 1:15-4 p.m. Monday through Wednesday.
"Clients may receive one food box once a month, and two emergency boxes on an annual basis," she said.
To donate or get information about volunteering, visit www.capcainc.org or call 501-273-4058.
Conway Ministry Center Storehouse
The CMC Storehouse, which opened in 2016 and moved to a bigger location at 225 E. Robins St. in Conway in December, serves an average of 300 families a month and more than 1,000 individuals overall.
"This new location has greatly increased our capacity to serve the community," Mike Rush, director of operations, said. "In June 2021, the Storehouse will celebrate five years of operation. We have had incredible staff and volunteers throughout our years of service."
The Storehouse receives donations from Feeding America partners, such as Kroger and Kum & Go.
"We also have donation relationships with local restaurants like Holly's Country Cookin' and the Hendrix College Cafeteria," he said.
All donations the organization receives are distributed weekly through its drive-thru pantry model from 11 a.m. to 1 p.m. and 4-6:30 p.m. on the last Thursday each month.
"Our clients can come weekly, no ID necessary," Rush said.
The Storehouse saw an increase in donations as it has grown over the past few years.
"Our current greatest need is a new freezer," Rush said. "Our food donations are constantly growing as our capacity to store it remains the same. A new freezer will replace a much older donated unit."
To make a donation or get information about volunteering, visit www.conwayministrycenter.org or call Rush at 501-358-6098.
The City of Hope Outreach (CoHO) Small Market
Since it opened in October 2020, CoHO Small Market has served more than 110 individuals and families in Conway's under-resourced communities, Anthony Bennet, communications director, said. It is located inside the CoHO office at 608 E Robins St. in Conway.
"Participating community members receive 500 complimentary Market Bucks, which can be exchanged at the Small Market for food, hygiene products and household supplies," he said, noting that participants earn additional Market Bucks by volunteering to help count, price, and stock inventory. "By allowing Participants to earn 10 Market Bucks per one hour of volunteer service, CoHO Small Market not only reduces food insecurity, we also accomplish our Mission of provoking hope and opportunity within the community."
The CoHO Small Market is open from 1-3 p.m. Tuesdays; 9 a.m. to 3 p.m. Wednesdays and Fridays; and 3-5 p.m. Thursdays.
"To meet the needs of our community members, the Small Market has flexible morning and evening hours during which individuals can sign up and purchase goods," Bennet said.
Though it was formed in response to the increased need created by the pandemic, the CoHO Small Market is here to stay.
"The CoHO Small Market will continue post-pandemic in order to address the daily food insecurity faced by hundreds of individuals and children in Conway," Bennet said. "Thanks to public and private grants, CoHO is able to provide nutritious meals, fruits and vegetables, and other food products weekly. Personal products and household supplies, however, generally come from local in-kind donations."
To donate or get information about volunteering, visit www.CoHO58.org/Small-Market or call 501-205-1614.
Soul Food Cafe Mission
Soul Food Cafe Mission, which was founded in 2001, is located at 1717 S. Donaghey in Conway.
Every Tuesday from 9 a.m. to 3 p.m. the organizations offers
In March, Soul Food Cafe Mission served "somewhere around 3,637 people," co-founders Rick and Traci Harvey said.
From 9 a.m. to 3 p.m. each Tuesday, Soul Food Cafe Mission offers "hot meals, food boxes, laundry mat, beauty salon, toiletries, clothing, small furniture and appliances, homeless supplies, showers and a lot of love," the husband-and-wife team said. "In order to receive food or anything else that we offer, anyone can just show up on any Tuesday and get help."
The organization receives most of its food through the Arkansas Foodbank and the contacts they provide.
"We also get some regular food donations through schools, individuals and businesses. There are random food donations through individuals and businesses many times throughout any given month, the Harveys said. "When the food comes in, decisions are made as to what area of the Mission it will be distributed to. Whether it be food boxes, school backpacks, soup kitchen or homeless. It depends on what type of food and the amount of it."
The organization's greatest need currently is the ability to accommodate cold products.
"Right now we are trying to enlarge our walk-in cooler and freezer to accommodate more fresh produce, milk and meat so any donation toward that would be greatly appreciated," the Harveys said. "Also, any dry goods and/or canned goods are always needed."
Food, clothing, toiletry, etc. donations can be dropped off at the building. Monetary donations can be made at soulfoodcafemission.org or mailed to SFCM P.O. Box 1555, Conway, AR 72033. To volunteer, one can contact Rick at 501-514-5325 or Tracy at 501-697-7405 "or simply show up on a Tuesday any time between 8 a.m. to 4:30 p.m. to help," they said.
Arkansas Community Foundation/Faulkner County
A Field of Interest Endowment Fund was established in 2009 to address the issue of hunger in Faulkner County. With an initial goal to build a $10,000 endowment fund, the Community Foundation partnered with 501LIFE.
"An annual campaign involving school children has raised both awareness and funding for this endowment," Executive Director Shelley Mehl said. "The endowment has quickly grown and is now over $76,000. It has awarded seven grants totaling $27,151 to local agencies."
This year's recipients were Soul Food Café Mission with $1,500 and the Faulkner County Council on Aging for $1,000.
United Way of Central Arkansas
The United Way is the local administrator of the Emergency Food and Shelter Program (EFSP, a federal grant program that provides funding to local nonprofits working to provide food and shelter to the area's most vulnerable populations.
"Our mission at the United Way is to improve the quality of lives in our community through health, education and financial stability," Executive Director Jennifer Boyett said. "One of the ways we achieve this mission is by providing grant funding to local nonprofits for programs that address food insecurity. If someone in the community is interested in supporting food insecurity initiatives within the community, but isn't connected to a specific organization, donating to the United Way provides an opportunity to support this need."
In the past year, the local board has awarded more than $46,000 to seven local nonprofits for emergency food-related programs.