Janssen COVID-19 Vaccine Appointments Open to All U of A Students 18 and Over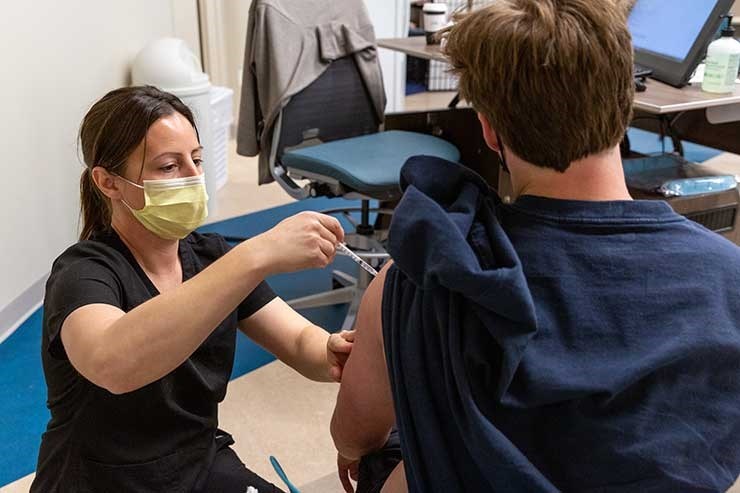 FAYETTEVILLE, Ark. – Pat Walker Health Center has 2,400 doses of the Johnson & Johnson/Janssen COVID-19 vaccines available for the U of A community. As of March 30, the state has opened vaccine eligibility to include all U of A students. Only a limited number of appointment slots are available each day. If no appointments are available, continue to check back a later time.
SCHEDULE AN APPOINTMENT ONLINE
Employees and students can schedule COVID-19 vaccine appointment online through the Pat Walker Health Center's Patient Web Portal: health.uark.edu/appointments.
If you are unable to access the Patient Web Portal, please call 479-575-4451, option 1.
If you previously had any adverse reactions after a vaccination, call to schedule your appointment.
Vaccination is by appointment only — Individuals without an appointment will not be vaccinated.
The Johnson & Johnson's Janssen COVID-19 vaccine requires one shot, which allows employees and students to be fully vaccinated before the end of spring semester.
Must be 18 years of age or older.
Cannot serve as second dose if previously received Moderna or Pfizer vaccine.
APPOINTMENT DETAILS
COVID-19 vaccines are being administered at the Pat Walker Health Center main facility by appointment only — 525 N. Garland Avenue. Use the Northeast Entrance (labeled C). Parking is available across the street in the Garland Avenue Garage – Level 6 (Top Level).
The COVID-19 vaccine will be provided to you with no out-of-pocket cost. However, PWHC will charge an administration fee to your insurance provider to cover vaccine-related expenses. Uninsured patients will have fees covered by the Health Resource and Services Administration's Provider Relief Fund.
WHAT TO BRING TO YOUR APPOINTMENT?
A completed Vaccine Consent Form (must be completed prior to appointment)
University photo identification
Health Insurance card (only required if you have insurance)
Although not required, Pat Walker Health Center strongly recommends getting vaccinated against COVID-19. The vaccine will not only help protect you against COVID-19 but also help prevent serious illness if you do contract the virus that causes COVID-19.
Vaccination information for the U of A community and an overview of the university's COVID-19 Response is available online.