Graduate Student to Discuss Leaf Blight Disease on Soybean in Entomology/Plant Pathology Virtual Seminar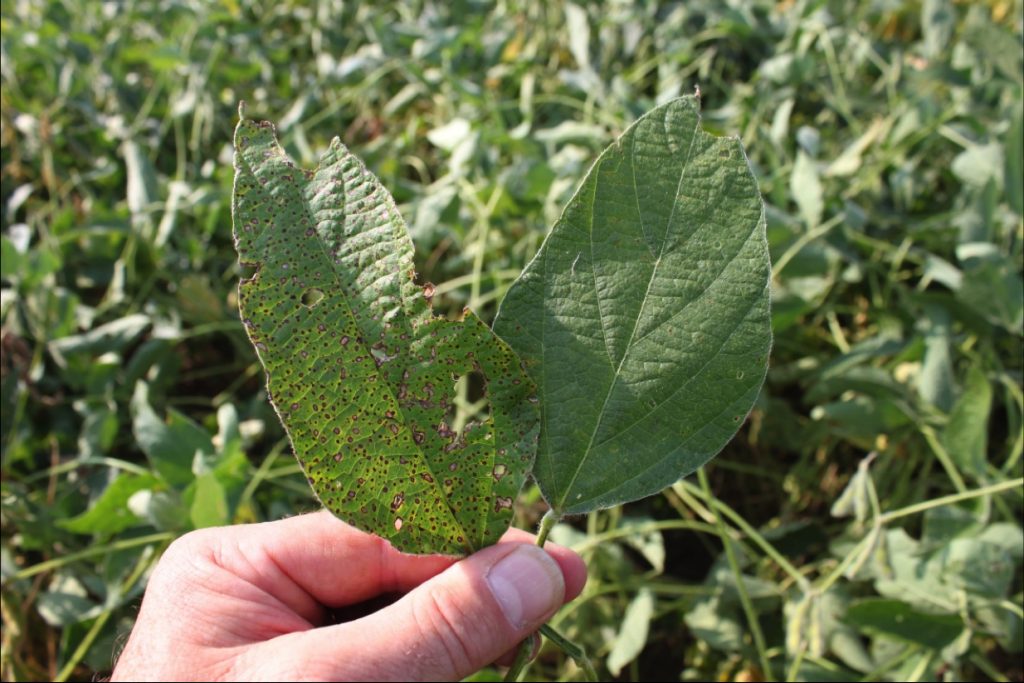 FAYETTEVILLE, Ark. – The Department of Entomology and Plant Pathology is hosting seminar speaker Amber Lancaster, a graduate student in assistant professor Alejandro Rojas' lab, on Tuesday. The seminar is titled Determining baseline Fungicide sensitivity in Cercospora spp. with DMI and QoI Inhibiting Fungicides.
The seminar takes place from 3:30 p.m. to 5:20 p.m. via Zoom link:
https://bit.ly/3sv3Gft
Meeting ID: 810 5065 7798
Passcode: Spring2021
The seminar is open to everyone.
Amber describes the study and results:
"Cercospora leaf blight (CLB) is one of the most important diseases of soybean in Arkansas (Albu et al., 2016, Price at al., 2015) and control is based mainly on fungicides and tolerant cultivars. Fungicide use has the potential to induce resistance, affecting disease management. The aim of this study was to determine the species associated with CLB in the state and whether Arkansas Cercospora species have developed resistance against Domark (Tetraconazole – FRAC3) and Quadris (Azoxystrobin – FRAC 11). Experiments were conducted in a laboratory setting where hyphal tipped isolates were grown for seven days, and a plug was taken and transferred to plates with different Domark and Quadris concentrations. The plates were incubated for five to seven days at 27 degrees Celsius.
"Isolates are being screened using the EF-1 gene to determine their species and have to date verified the presence of C. cf. flagerallis and C. kikuchii in the state. The plate assay has shown increased colony growth on colonies when measured at five days and seven days post incubation, indicating that some isolates show tolerance to both tetraconazole (EC50s DMI ranging from 5 to 18 mg/L) and strobilurin (EC50s QoI ranging from 3 to 18 mg/L). Based on these results, we conclude that that Cercospora species in Arkansas are developing resistance to fungicides, and this will affect treatment strategies. It is recommended that growers rotate chemistries or mixes applied in order to prevent the emergence of addition resistance."
About the Dale Bumpers College of Agricultural, Food and Life Sciences: Bumpers College provides life-changing opportunities to position and prepare graduates who will be leaders in the businesses associated with foods, family, the environment, agriculture, sustainability and human quality of life; and who will be first-choice candidates of employers looking for leaders, innovators, policy makers and entrepreneurs. The college is named for Dale Bumpers, former Arkansas governor and longtime U.S. senator who made the state prominent in national and international agriculture. For more information about Bumpers College, visit our website, and follow us on Twitter at @BumpersCollege and Instagram at BumpersCollege.