Freeman Recognized for Service to International Education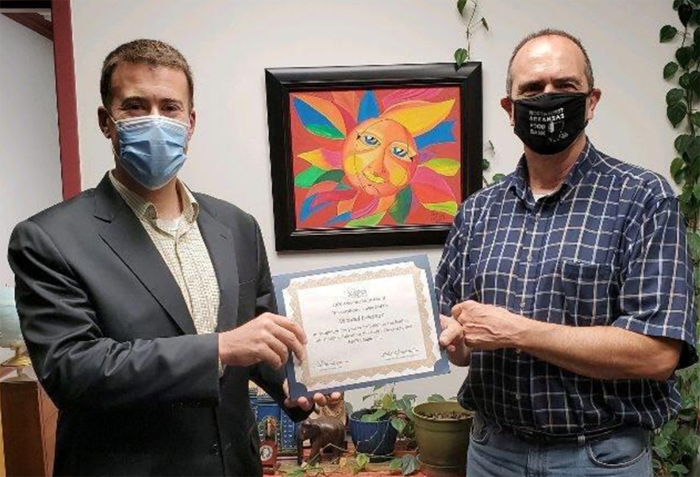 FAYETTEVILLE, Ark. – Michael Freeman, director of international students and scholars, was awarded the 2020 Arkansas NAFSA State Award on Friday, July 24.  NAFSA, the Association of International Educators, is the world's largest nonprofit association dedicated to international education and exchange.
This award recognizes Freeman's work for Arkansas international educators throughout his career. He has served at the university for more than 35 years.
Sue Marlay, a retired international educator from Arkansas State University, nominated Freeman for the award.  "Michael Freeman has been committed to international students and international education for his entire career. He is a quiet leader—nothing showy or glamorous—who gives his very best every day to his work and to his students," she said.
International education is an important component of the infrastructure of the University of Arkansas campus. In recent months, UA international students have faced significant challenges related to the pandemic including academic, financial, health and travel concerns.
Kim Needy, dean of the Graduate School and International Education, said, "Michael has been a steady voice of encouragement and support to our international students, providing clear information and services to help them with decisions regarding international education in our current climate. The university is fortunate to have such a compassionate and skilled leader for our international students."
NAFSA advances public policies that promote international education and is committed to supporting a broad public dialogue about the value and importance of international education. NAFSA's 10,000 members are located at more than 3,500 institutions worldwide, in over 150 countries.  Region III serves the four-state area of Arkansas, Oklahoma, Louisiana and Texas.
Through professional development programs, publications, and networks of professionals, NAFSA provides opportunities for knowledge creation, knowledge sharing, and skill-building. NAFSA also plays a leadership role in increasing awareness of and support for the internationalization of higher education among education leaders, public policymakers, and the broader community.