Fayetteville's JBGB Sold In $5.2M Lease-Back (NWA Real Deals)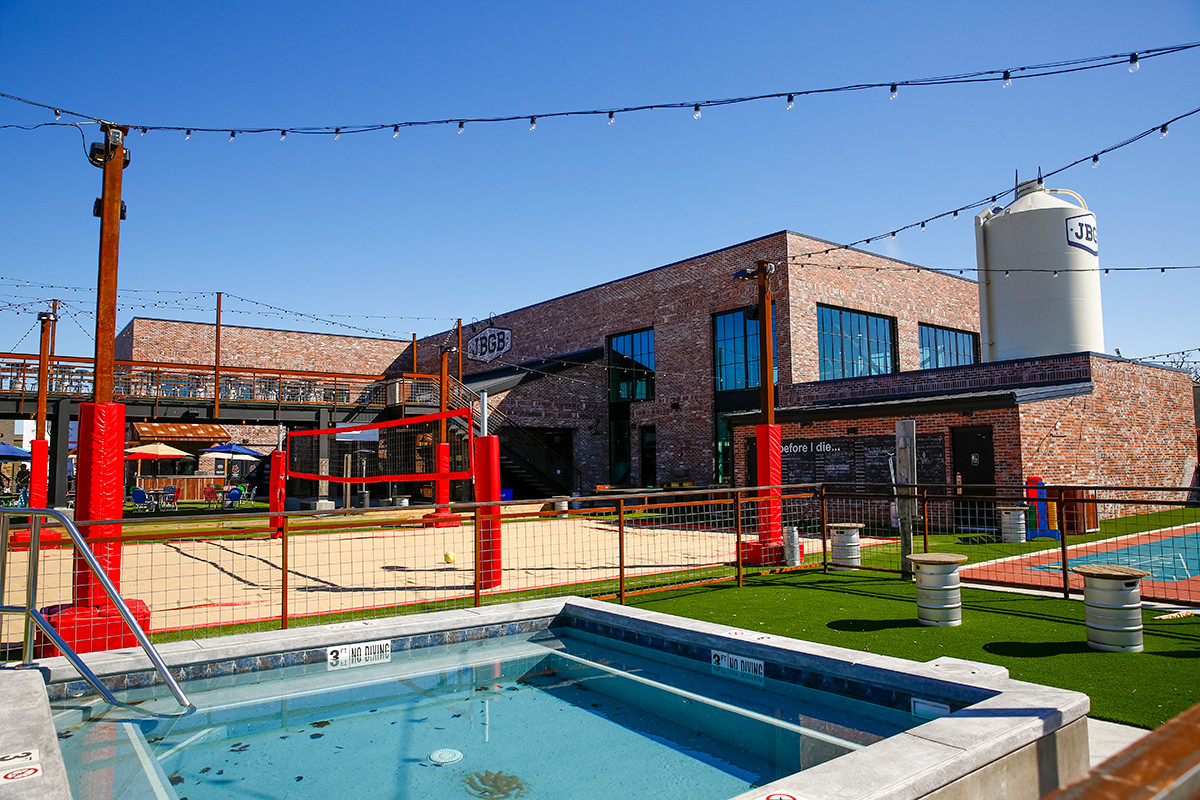 FAYETTEVILLE, Ark. – The entertainment venue JBGB in uptown Fayetteville changed hands in a $5.2 million deal.
MAG Capital Partners of Fort Worth, led by Dax Mitchell and Andrew Gi, bought J.J.'s Beer Garden & Brewery through its MAG-JBGB Investment Partners LLC. JBGB was created by Jody Thornton, who owns nine J.J.'s Grill sites in Arkansas.
Thornton, through his Faymjet LLC, was the seller. JBGB will remain in operation — when it reopens after a previously scheduled renovation — as a tenant.
Farmers & Merchants Bank of Stuttgart, which does business in northwest Arkansas at the Bank of Fayetteville, provided a loan of $6.4 million.
Thornton opened JBGB in May 2017 on a 1.9-acre lot on Steele Boulevard. The 13,416-SF facility includes Thornton's corporate offices, a brewery, restaurant and bar and an outdoor stage for events.
JBGB announced on social media in September 2019 that it was closing for remodeling to enclose much of the outdoor areas. The pandemic added delays, but JBGB announced in late January that remodeling had begun with completion expected as early as the end of summer.
Crain RV
Crain Investments LP of Sherwood paid slightly more than $2 million for a recreational vehicle lot in Springdale.
Crain Investments is led by Larry Crain, the owner of Crain Automotive, which operates car and RV dealerships in the state. The 4-acre lot on West Sunset Avenue, which includes a service garage, was previously home to Northwest RV.
The sellers were Josh and Eloise Pettit of Fayetteville. The Pettits acquired the property in 2014 for $900,000.
Oaks Apartments
The Oaks apartment complex in Springdale sold for nearly $1.4 million.
Dalinda LLC, led by David Williams of Springdale, bought the 22-unit complex on Carlton Street. The two-story complex totals 17,500 SF and was built in 1979.
First Western Bank in Rogers provided a $1.1 million loan. Sellers were Efrain and Oliva Sosa, who acquired the complex for $752,000 in 2006.
Sonic Drive-In
A fast-food restaurant in Fayetteville sold for $2.3 million to a Dallas investor.
RCM Sonic LLC, led by Tyler Alley of Rose City Partners, bought the 1,428-SF Sonic Drive-In on MLK Jr. Boulevard. Citizens Bank of Batesville provided a loan of slightly less than $2 million.
The sellers were Sonic Investment #1, led by David DeJarnett of Collinsville, Oklahoma, and Paula Sosbee and David Macy of Norman, Oklahoma. DeJarnett acquired the 0.8-acre tract for $90,000 in 1989, a year before the Sonic was built.
RV Park
A Springdale RV park sold for $1.1 million.
Hickory Creek Marina Fish & Ski Center LLC, led by James Hyden of Springdale, bought the Pilgrim Rest RV Park. The park is on 22 acres with 38 slots for vehicles.
The seller was Natural State Glamping & RV Park LLC, led by Kolby Hathaway. Natural State acquired the property for $600,000 in January 2020.
Fayetteville Office
Lewis Automotive Group of Fayetteville paid $950,000 for a 4,110-SF printing office building.
The building is on a 0.75-acre lot on North Shiloh Drive, adjacent to several other properties Lewis bought in 2020. One of those was an $8 million acquisition of a 13-acre tractor dealership.
Lewis bought the property through its Lewis Brothers Leasing Co. Inc., led by Vice President Matt Lewis.
The sellers were Timothy and Tina Stanley. The Stanleys acquired the property for $500,000 in 2005.
UA Purchase
The University of Arkansas at Fayetteville paid $365,000 for a 2,000-SF retail building in south Fayetteville.
The building, on South School Avenue, was the home of Custom Lure Tackle Shop, owned by Julian and Edwardene Watts, who acquired the property in 1977. Edwardene died in 2017; Julian died last summer.
The seller was the Julian & Edwardene Watts Family Trust, led by their son, Ralph. The building is on about 1 acre.