Diamond Hogs add 2024 pledge from Carter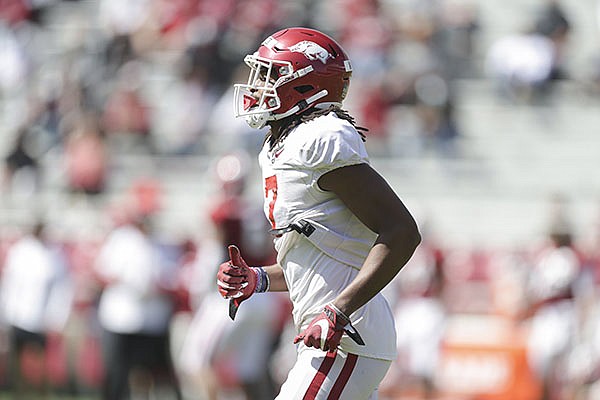 FAYETTEVILLE, Ark. – Arkansas' baseball program picked up a pledge from a five-tool Kansas prep prospect whose head coach has connections to a pair of Razorback coaches.
Olathe (Kan.) West freshman outfielder and Cameron Carter (6-0, 155 pounds) announced his commitment to Arkansas on Friday night via Twitter. Carter is in the high school class of 2024.
The 15-year-old Carter, who is batting .350 this season for West (6-0), took in the Arkansas-Alabama games at Baum-Walker Stadium on March 20-21.
"The atmosphere is great," Carter said. "That was the first time I had ever been to Fayetteville and we sat behind home plate and it was just an awesome experience.
"Then we went out to eat at J.J.'s afterwards and there was like a group of 20 people just chanting. It was just awesome, just everything about it."
Carter chose Arkansas over Tennessee, Arizona State and others.
He is the third 2024 pledge for the Razorbacks. Also committed in the class are right-handed pitchers Ross Fielder (6-1, 167) of Springdale Har-Ber and Tag Andrews (5-11, 170) of Maumelle.
"(Recruiting) is stressful at first, but I calmed down and let it take its course," Carter said. "I just wanted to get it out of the way and I think Arkansas is the right place. The facilities and everything is great about the program.
"They went the College World Series two years ago and almost won it all. I really want to compete at the highest level and Arkansas is definitely at the top of the college baseball world, and is always at the top."
Olathe West coach Richard Sabath, who coached Arkansas hitting coach Nate Thompson at Garden City (Kan.) Community College, believes Arkansas is getting a special player.
"He is on our varsity team and playing right field," Sabath said. "He is the first freshman to start for us and it is very unusual for a freshman to be playing for us at this level. He is doing that and doing it well.
"He has got five tools. He can hit, he can hit for power, he can run, he can throw and he is a good defender. Arkansas got a great one, he has a chance to be really special and I am glad they got him."
Sabath trusts Thompson and Arkansas coach Dave Van Horn, who took over the Razorbacks after a successful stint at Nebraska.
"Coach Thompson both played for me and coached with me," Sabath said. "He played for me at Garden City JUCO and played for me at Fort Hays. So I have known Nate for a long time.
"Coach Van Horn, when he was at Nebraska, I had some players from Garden City that went up and played for him. So obviously I have known those two for a long time and they have a great program, which obviously speaks for itself.
"The fact that they recruit our area makes it extra special and we are just happy to have another player that we hope can help them out."
Arkansas players from the area include Christian Franklin, Brady Slavens, Robert Moore and Zebulon Vermillion. Bobby Wernes, the Razorbacks' volunteer assistant coach, is also from the area.
"I do know Brady Slavens and Christian Franklin," Carter said. "Christian Franklin played at the same (summer) club as me, Building Champions."
Carter believes his biggest strength is his speed.
"I am just a really quick athlete," he said. "That kind of plays into every part of my game."
Carter will also be used as a pitcher as his high school career goes along.
"That is one of the things that will be evolving," Sabath said. "He is 84 or 85 off the mound right now this year, and so that could be something that turns into something pretty special velocity-wise by the time he is a senior."