Chancellor, Medical Director to Discuss Campus Response to COVID in Honors College Vaccine Forum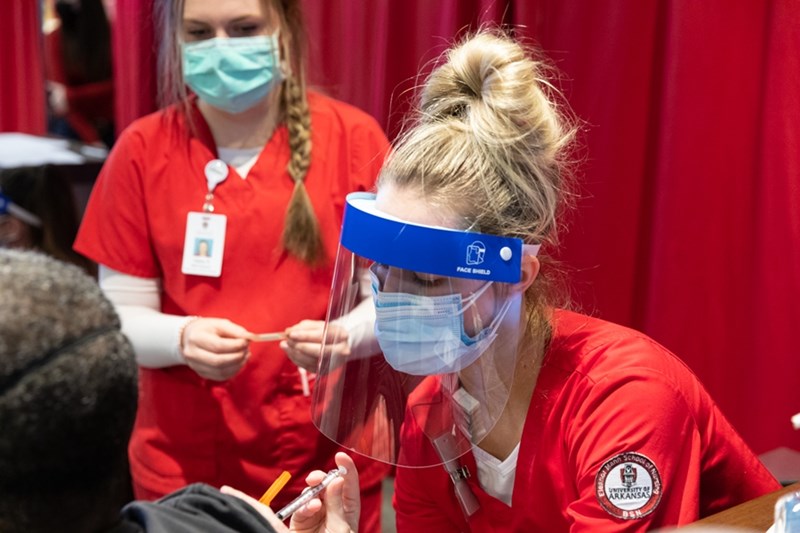 FAYETTEVILLE, Ark. – Chancellor Joe Steinmetz and Dr. Huda Sharaf, medical director of the Pat Walker Health Center, will wrap up the two-week Honors College Forum Vaccine with a frank discussion of the U of A's efforts to vaccinate the campus community. More broadly, they will discuss how campus administrators and health officials have worked closely together to contain the COVID-19 virus and keep campus faculty, students and staff as safe and healthy as possible.
All on campus and in the community are invited to sit in on Steinmetz and Sharaf's presentation, "Vaccinating the U of A," which will take place from 10-11:30 a.m. this Friday, May 21, via Zoom. Join the Zoom meeting. Passcode is 06683477; you must have a Zoom account to participate.
The course has drawn on 23 experts from inside the U of A and around the country in fields ranging from immunology to supply-chain management and literature. Videos of past sessions are available on the Honors College YouTube channel.
"Over the past two weeks we have learned so much about the COVID-19 vaccine, from historic perspectives on vaccine hesitancy to how these vaccines came to market so quickly to ongoing issues with just and equitable distribution," said Honors College Dean Lynda Coon. "This Friday Chancellor Steinmetz and Dr. Sharaf will wrap up the course by reflecting on efforts to vaccinate our campus quickly and efficiently in a program that involved many, including nursing and pre-med students who have learned so much from this experience. Join us!"