Arkansas arts agency sponsors artist development workshops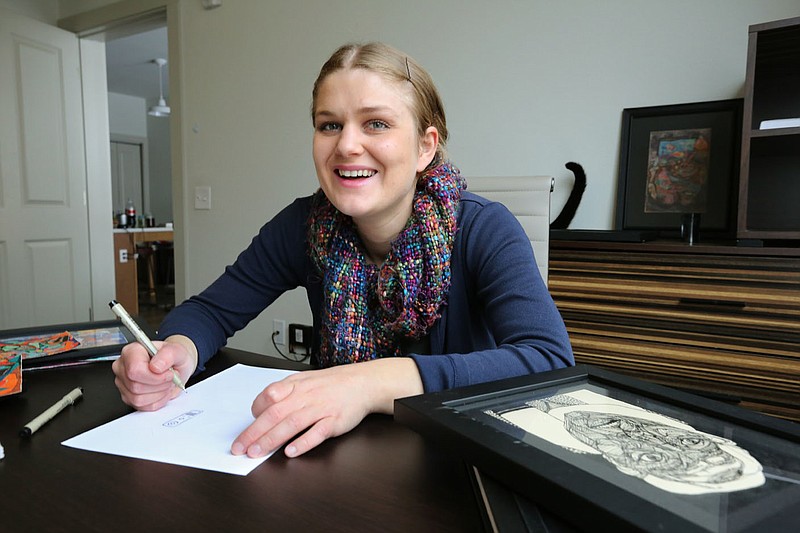 FAYETTEVILLE, Ark. – The Arkansas Arts Council is the first state agency to sponsor statewide virtual workshops to help artists develop business skills.
Artist Inc. Express will be offered online March 5-7, with priority registration for artists living in western Arkansas, said Robin McClea, artist services program manager. Current registrants include Northwest Arkansas residents, she said.
"I do think there is a need across the state," said Kathy Liao, Artist Inc. program specialist with Mid-America Arts Alliance. "It really is coming back to the idea of community building and letting artists realize they do have resources, they have a network out there they can tap into."
Artist Inc. Live began in 2009 through the alliance, which supports artists, cultural organizations and communities throughout Arkansas, Kansas, Missouri, Nebraska, Oklahoma and Texas through national traveling exhibition programs, leadership development and strategic grant making.
The three-day online express program is a condensed version of Artist Inc. Live, an eight-week program addressing topics such as marketing, good business practices and financial management for working artists of all disciplines, McClea said.
Artist Inc. programming previously has been offered in the state through nonprofit sponsors in Northwest and central Arkansas, said Patrick Ralston, Arkansas Arts Council director.
Three additional iterations of Artist Inc. Express will be offered in central, northeast and south Arkansas in the upcoming months, according to the alliance's website. Priority registration for the western Arkansas workshop ends Feb. 28.
Twenty artists will be able to participate in each Artist Inc. Express workshop, McClea said.
Offering the express version of the program online will allow artists who've previously been unable to attend Artist Inc. events to participate, McClea said.
"Now that we are all home-bound, it's being offered via Zoom," she said.
Hannah Jeremiah, 26, of Fayetteville said she'll be participating in the workshop to learn more about developing business skills.
"That's something I've never had any formal education in," she said.
Jeremiah has been a working visual artist for about five years and draws with felt tip pens on paper, she said. Her works are typically about 5 inches by 7 inches and run from $10 prints to $150 framed pieces.
Jeremiah said she discusses topics not easily put into words, with titles such as "Talking to the Universe" and "Witness to Nourishment."
Jeremiah said the biggest challenge she'd like to address through the workshop is how to coordinate more public viewings of her work.
"I feel like I'm the kind of artist who wants to make art all the time and would be happy to give that part of the process over to a gallery," she said.
Participation in the program normally costs $200 but is being offered for free through the Arkansas Arts Council, McClea said.
Each three-day workshop costs $5,000 to conduct and is paid in part by grants provided through the Mid-America Arts Alliance, she said.
Offering the workshops for free may benefit working artists during the pandemic, McClea said.
"Maybe they have lost income, maybe they have not been able to participate in performances or in exhibitions, so they're reflecting on what they can do to improve their practices right now while they're isolating at home," she said.
Jeremiah said she was most affected by the cancellation of holiday art and craft shows but has used the downtime to focus on creating new pieces.
"This is a way for us to try to help rebuild some skills and some confidence — help artists retool in what has become a very challenging economic situation for our creative economy," Ralston said.
Arts and cultural economic activity added about $878 billion to the economy and contributed to 5.1 million jobs nationally in 2017, according to the U.S. Department of Commerce's Bureau of Economic Analysis. Arkansas' creative sector contributed $2.9 million and 33,513 jobs to the economy in 2017, according to the bureau.
A study by Americans for the Arts commissioned by the Northwest Arkansas Council in 2017 found $131.2 million in total economic activity annually, supporting 4,647 jobs in Northwest Arkansas.
Investing in working artists through Artist Inc. programming will benefit the state's economy, Ralston said.
"When you have so many people who are working and driving an income and contributing to their local economy, you want them to have the skills and sophistication to practice," he said. "The long-term goal is to build that sector of the economy and to encourage that creativity."